David has just returned from a well deserved break in Tenerife, staying in the resort town of Los Christianos, after getting bored of lying around on the beach David decided to grab his camera and take a stroll around the town to see if there were any machines around.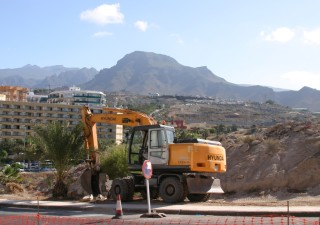 The first machine David came across was this 16 ton Hyundai 170W-7 wheeled excavator. This "Rubber Duck" as we all like to call them in the UK appeared to be abandoned with its door still open and David suspected that the lads were off having an afternoon siesta!
Meanwhile down at the harbour, David stumbled across this Komatsu WB97S 99hp 8.7 ton backhoe loader, which somewhat bizarrely, was parked in the middle of a roundabout surrounded by Heras fencing, is this the smallest building site I have ever seen or merely a temporary storage base pondered David.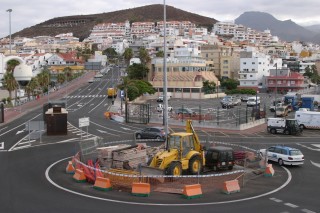 There was still not much action going on machinery wise, however all was not lost, as the local councils John Deere 6630 tractor and Beach Tech 2000 attachment put in a regular appearance on most mornings as it raked, smoothed and cleaned up the beach.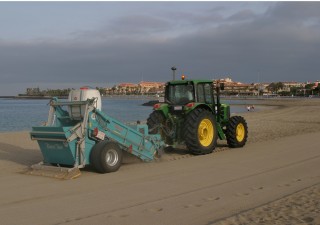 The Beach Tech 2000 is designed for raking (for minimum sand collection), screening or a combination of raking and screening.
The raking technique is ideal for cleaning sand that is wet, or for processing dry sand at high speed when a large area needs to be covered.

The screening technique involves removing a layer of dry sand and cleaning it to eliminate even small objects and particles of dirt (such as cigarette stubs). With the Beach Tech's working width of 1 800 mm, a processing rate up to 20 000 sq.m per hour is possible if the sand is dry, and even if the substrate is very moist it is possible to clean approx. 10 000 sq.m.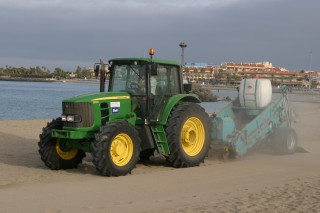 The collection skip at the rear has a capacity of 1.5 cu.m. and a discharge height of 2 600 mm, allowing it to tip directly into a truck or trailer with platform-mounted body.
And finally in this post, a couple of shots from me. Taken during my recent holiday in Turkey.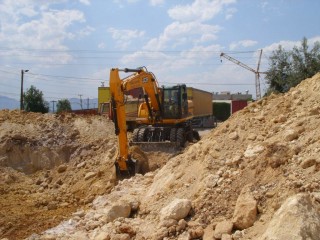 They feature a JCB JS175W wheeled excavator which was owned by Turkish contractor Goktas Hafriyat and was working on the same site in Antalya that I visited to see the Hidromek HMK220LC working with a breaker on.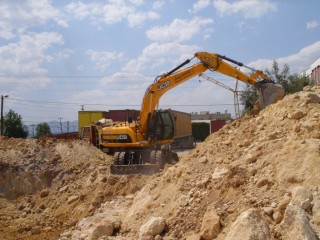 Don't forget if you are out and about on your holidays and see some kit in action or simply lying around dead or alive, we want to see them.