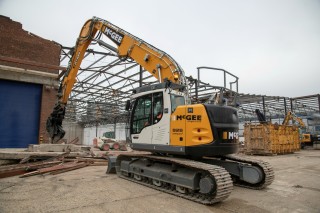 McGee Group is working on the Park Royal project for the HS2 Skanska Costain Strabag (SCS) joint venture team undertaking large-scale demolition.
McGee needed a smaller high-reach machine than usual due to the space-restricted inner-city location. Liebherr came up with a bespoke solution based on its R 926 Compact base machine.
A range of industrial and office buildings is being pulled down on a section of the Bethune Road industrial estate that will be excavated to become the Victoria Road Crossover Box. The site is just a stone's throw from McGee's offices in north London.
As there was no suitably compact demolition machine on the market, McGee approached Liebherr. After a technical meeting at Liebherr's manufacturing facility in Colmar, France, a bespoke 12-metre high-reach was made.
Liebherr removed the standard excavator front end of an R 926 Compact and replaced it with a two-piece boom and dipper capable of giving a pin height of 12 metres and of running a work tool with a weight of up to 2.5 tonnes. The boom configuration comprises a 7.8-metre main boom with a 5-metre dipper stick. An underslung dipper ram allows the machine to be reduced in height for transport and for accessing tight locations if and when required. A range of additional hydraulic services has also been included to allow for attachments. A full ROPS and FOPS demolition cage has been specifically fabricated and tested for the R 926, which has a slightly shorter cab than the standard counterweight machines.
The R 926 Compact base machine weighs up to 28 tonnes depending on the specification. McGee Group's adapted version weighs more than 29 tonnes thanks to the heavy-duty construction. The cab interior is as standard apart from the addition of a James Fisher Prolec system that has been designed to manage the Liebherr's working envelope with both a visual and audible signal alerting the operator if they reach the safe working limit.
The first building to be cleared on the site wais a steel-framed brick-clad industrial warehouse of one and a half storeys. Operated by Tom McGee and equipped with a Demarec shear, the R 926 was used for a multitude of jobs including dismantling the steel framed structure and the secondary processing of steel once it was on the floor.
"It seems to be a very good machine," he said. "It's typically Liebherr: very well built and will be great for jobs like this."