Mill Hill Quarries Ltd was established in 1959 and operates three slate quarries, which are located in Devon and Cornwall. All the quarries extract slate from the Devonian period, which makes it approximately 350 million years old. Trevillet Quarry is located on the rugged North Cornwall coast close to the historic town of Tintagel, and is one of only two remaining producers of traditional Cornish roofing slate, manufacturing 65,000 standard sized slates and around 140 tonnes of random width Cornish slates per year. In order to utilize as much of the quarried slate as possible, the quarry also produces building stone, garden walling, and paving products.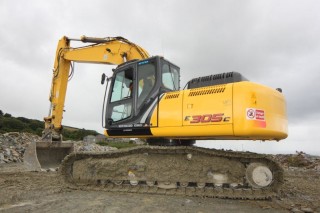 The quarry's prime mover has always been a 30 tonne class excavator. In March 2012, the decision was made to upgrade the company's existing Doosan DX300, for a new 30 tonne machine. Quarry manager and machine operator John Ferret had always been pleased with the old product, but due to price and availability, and a consultation between director of operations Mandy Hopkins and John, the decision was made to purchase the New Holland machine.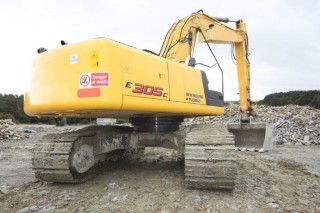 The new machine was supplied by D & G Machinery Ltd, who are the local New Holland dealership and was delivered into Trevillet Quarry in late March. So far operator John Ferret has been very pleased with his new mount, John commented, "We had a couple of minor teething problems to start with, but they were sorted out quickly by D & G Machinery and since then I really can't fault the machine. It's very good on diesel which is a big bonus for us, as we only need to fill the tank up twice a week". The 31,870kg E305C LC is powered by a Tier 4i (EU stage IIIB) emission regulations standard, 6 cylinder engine which has a power output of 152kw (204hp), this engine uses New Holland's SCR (Selective Catalytic Reduction) technology, which is said to optimize combustion for maximum fuel efficiency, offering more power but using less fuel.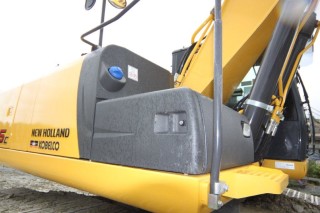 This system uses the well proven AdBlue diesel exhaust fluid additive, which has been in use on trucks in Europe since 2004. Commenting on the AdBlue system John said "We think it's a good system, and we don't find any problems using it, there is a separate AdBlue gauge on the main control panel underneath the main fuel gauge so you can keep an eye on the level at all times, the machine also has an audible warning system that lets you know if the AdBlue is getting low, so you can't go wrong really"
The E305C LC is fitted with the latest New Holland EVO cab which has been designed to maximize the operators comfort and performance during long working shifts. John has been very impressed with the all round vision in this machine when compared to his previous excavator, describing it as "the best he has ever had in a machine". The addition of the integrated rear view camera is a big bonus, as is the placement of large rear view mirrors.
John invited me to take to the cab for some stick time. My initial impressions were what a very spacious feel the cab had and once I had adjusted the seat I felt very much at home straightaway. This cab features all the usual creature comforts we have come to expect these days, with fully automatic air conditioning, radio with bluetooth facility for mobile phones, and a USB port. I tracked the machine to a dig location in the quarry and set about digging a square hole.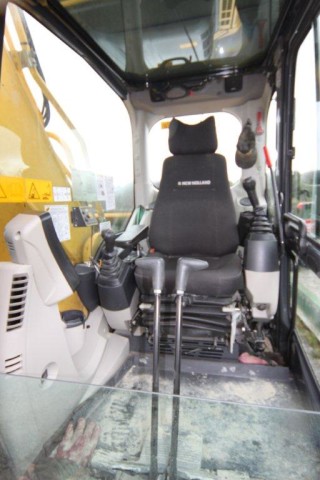 The E305C is capable of carrying buckets from 0.60 – 1.65m3, Mill Hill Quarries machine is equipped with the largest bucket it can take which weighs nearly 2 tons itself, a really solid and strong, looking bucket manufactured by Geith.
The E305C has three working modes H = for heavy duty digging, S = for standard digging and loading and E = for maximum fuel economy. I could see that the ground conditions in the quarry were going to be challenging so I opted for the heavy duty mode, the machine powered into the ground and it soon became apparent as to why a strong bucket was required, the ground in this digging area was a combination of soft spoil and large lumps of slate, but even with such a large bucket on the machine tore through it with a bit of working the bucket. I put a full bucket over the side at full stretch and except for some slight bounce the machine remained stable, which considering the size of the bucket was very impressive. The machines long undercarriage was also a big asset, helping to keep the machine securely stable in the dig.
These machines feature New Holland's intelligent hydraulic system (Hydrotronic) which continuously optimizes hydraulic output according to the operator's demands. In addition the machine offers better speed and control with its Dipperstick Optimized Control (DOC) technology, which ensures the excavator always works with two pumps to offer the flow and speed combination the operator requires too perform the tasks in hand, this was clearly evident as I performed some backfilling work and some simulated fine grading operations. Also evident was the machine's integrated swing priority system, which see's additional pump power going to the swing function when required. For a large machine the slew speed was very quick, especially initial take off.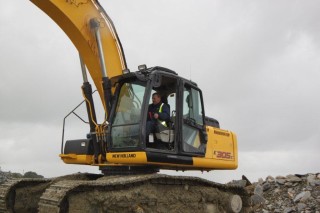 This machine is also equipped with a Rammer BR2577 breaker, which John uses to split the large blocks of slate that have been extracted from the quarry face. Some of the breakers work used to be done with a ripper tooth but the hammer has proved to be a vital piece of kit in the quarry's arsenal, so much so that John said, "without the hammer we just can't carry on with production here".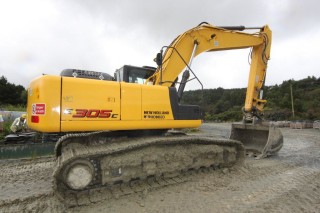 In another post on this interesting quarry, I will show you some of the other kit that works there as part of the slate handling process.
I would like to take this opportunity to thank Mandy Hopkins and John Ferret, of Mill Hill Quarries, and Luke Harris, area salesman for D & G Machinery for their kind assistance with this post.