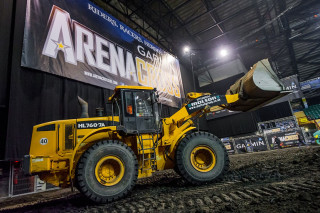 That is why it has been involved once again in this year's Garmin Arenacross tour, a series of indoor dirt bike races taking place at big shed arenas in Belfast, Newcastle, Liverpool, Birmingham, Sheffield and London's Wembley Arena.
The Molson-sponsored SR75-Molson team are the reigning Arenacross team champions but they are trailing a distant fourth this year, with just the final round to come at Wembley next month, on 1st March.
But Molson isn't just a sposnor fo the event; it also makes the whole thing possible by providing the machinery to make the tracks, which is the biggest single job when it comes to putting on tour event.
The organisers can have as little as 24 hours to shovel, mould and sculpt upwards of 10,000 tonnes of dirt into what they describe as "a whoop-filled, jump-infested monster of a circuit".
Molson equipment used includes a Hyundai HL760-7 wheel loader and two Hyundai excavators – an R140CL-9 and an R27Z-9. It also has a Cat 289C skid-steer loader on the job (below).
Steve Price, production director for event organiser e22 Sports, says: "The equipment is as good as it gets and allows us get in, build the tracks and then tear them back down again when racing is finished with the minimum of hassle."