The team at A1 Infrastructure have been very impressed with the performance and reliability of their first Caterpillar 308D CR 8 ton class midi hydraulic excavator, so when they decided to add another 8 ton machine to the fleet, there really was no contest. According to A1's general manager Kieran O'Boyle, "It really was a no brainer, we have had excellent service from the first 308D CR we purchased, and the 1.5 ton Cat 301.6C has been outstanding, as such we had no hesitation in going for more Cat machinery."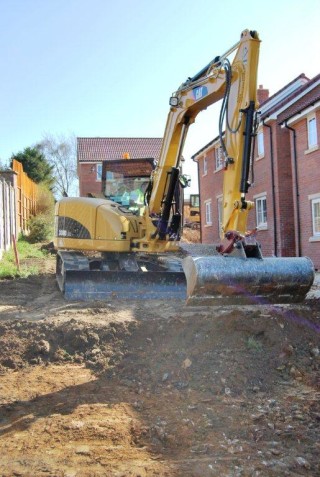 The new 308D CR was delivered straight to site, but the other Cat machine purchased by A1, was on display on the Britcom Cat Compacts stand during the recent Lincolnshire Show. This machine was a Caterpillar CB24 double drum vibratory roller, which went straight to work after the show. The Cat CB24 utility roller is powered by a EU stage IIIa emission compliant 34hp Cat C1.5 engine, and has an operating weight of 5952.47lbs. The machine offers a dual-frequency vibratory system which is claimed to provide a good balance between frequency and amplitude, to enable customers to deal with the many different conditions they face on site in terms of their compaction requirements.
Amongst the vast array of compact Caterpillar equipment on show at the Britcom stand, was one of the latest 8 ton models, the 308E, which was also displayed sporting the AI Infrastructure livery. This model was featured on the Digger Blog earlier this year, when we attended a launch event at Caterpillar UK's Desford headquarters in Leicester.
Another successful deal by Michele Tate and the team at Britcom Cat Compacts, and judging by the feedback from A1 Infrastructure, it won't be the last.
Thanks to Britcom Cat Compacts for the use of their photos in this post.