Working on ahead of Michael forming the batters that we covered in our last post from the Pilbara job, were a couple of 45 ton excavators in the form of a Hyundai Robex 450LC-7A and a Komatsu PC450-7. Both these machine were equipped with Topcon GPS systems and both machines were using tilting grading buckets. The bulk work involved in the formation of the batters was done by dozers, who also prepared the top bench for the excavators to "trim up" from.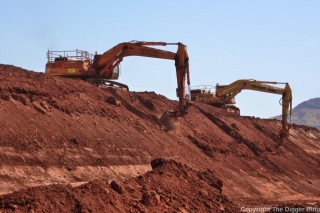 Michael himself was following up placing stone on the batters, with another Komatsu PC450-7 c/w tilting grading bucket. Michael described the Komatsu 45 ton offering as an awesome machine, which was so smooth to operate and a real pleasure to spend a shift in. We see Michael in this photo next to his mount after completing a section of stone grading.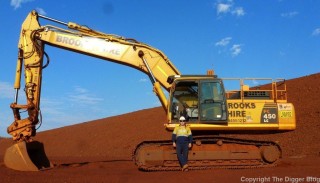 In some areas, hard rock was encountered and so a Caterpillar D9R was deployed to the job on ripping duties. This great shot shows the D9R getting stuck into the offending rock, as she belches out black smoke whilst powering up!
Michael also got spend a bit of time on the dozers in Pilbara, including this Caterpillar D9T which he described as a great machine.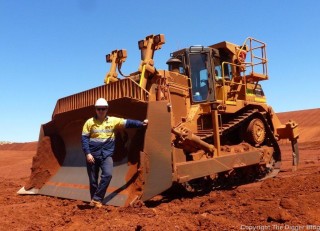 Another machine from the Komatsu stable was on site, but whilst Michael was there it remained parked up. The Komatsu PC850 had been used in the early stages of the project to mix and condition large quantities of soil in preparation of the dam construction works. Michael said "Sadly I didn't get a chance to get my hands on that machine this time, but maybe in the future".

The big dozers are an integral part of the machine fleet in Pilbara, and here we see a couple of Cat D9T's flanking their big brother the D10T at the park up area.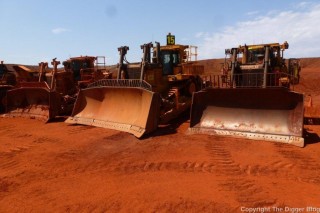 On another agricultural dam job, a fleet of 5 Caterpillar 633D elevating scrapers used to cut, haul and form the dam. In this shot we see 3 of them at rest.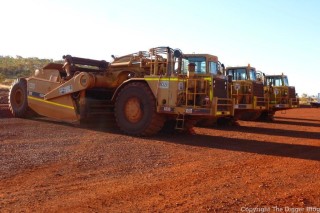 And the last shot in this batch, is a stunning panoramic view of the finished Tailings dam that we have seen Michael working on during the last two posts from down under. The sheer vastness of the place must be totally mind blowing. Michael said that when they initially told him that his job would involve grading stone all the way around the dam he was rather gobsmacked at the task that lay ahead of him, hardly surprising when you see the scale of the job I say!

Look out for more shots from Michael's adventures down under here on the Digger Blog soon.