Commenting on the deal Joe Schofield, Business Development Manager for Industrial, Waste & Recycling at Finning said, "After visiting and surveying the new site, we met with Biffa to understand their needs and discussed which machines would be ideally suited to this innovative new facility. We recommended the Cat TH407 Telehandler."
"The new site is the future of waste. It takes food that could once only be sent to landfill and turns it into energy that goes back in to the grid, which is something of great value on a truly industrial scale. The Cat TH407 will be tasked with general duties including loading hoppers and cleaning."
Commenting on operating the Cat TH407 telehandler Mark Wright, a multi-skilled operator for Biffa said, "It's a fantastic piece of equipment and it does the job extremely well. The attachments, such as the bucket, clamps and lifting forks, are great additions and make our job a lot easier."
"When the lorries come in and tip the material on the floor against the push walls, we use the Cat TH407 to pick up the waste, then using the extendable boom arm we can tip it into the bunker bins. The ventilation system keeps the air clean and smelling nice inside the cab, when the doors are shut. It is very important as we can be operating the machines for up to two hours at a time."
"The visibility from the cab is also great. You have a 360-degree view all around the machine and extra mirrors so you can see the bucket and other important spots around the machine. It's a great piece of equipment and makes doing the job a lot easier for the operators."
Biffa is the leading nationwide integrated waste management business. It provides collection, treatment, recycling and technologically driven energy generation services.
The new facility in Cannock, which is the biggest in the UK, process up to 120,000 tonnes of food waste from homes and businesses every year to produce enough renewable energy to power 6,000 homes and a soil improver that can be used in the same way as compost.

Anaerobic Digestion (AD) is a treatment process for organic, biodegradable material such as waste food. The process utilises naturally occurring micro-organisms already present in the waste to break it down in the absence of oxygen, producing a fibrous 'digestate' similar to compost and a methane rich 'biogas' used for the generation of renewable energy.
The Cannock facility is the latest in a long line of commitments from Biffa to handle more of the UK's food waste. It forms part of Biffa's expanding network of AD plants and follows on from the launch of its National Food Waste Recycling Service for businesses earlier in the year.
The Cat TH407 telehandler is a highly versatile machine, which is designed to deliver maximum performance in the tough working conditions of this waste management site and includes some truly innovative features.
The new cab is spacious and comfortable with good all-round visibility and easier to read controls. It features a new bespoke heating and ventilation system, which is very important due to the materials the site deals with; the pungent odours and the fact that the entire process takes place in an enclosed environment.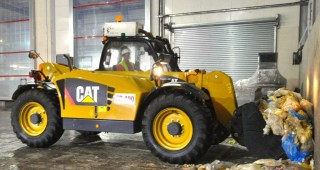 The single lever joystick with roller switches is easy to use, and all controls, including auxiliary hydraulics, are fully proportional. An in-cab LCD displays a wide range of information, including machine speed, operating hours, fuel level, coolant temperature and error messages. The keypad can be used to select various operating modes, including three different steering modes. Added lights and beacons have also been included for extra visibility.
The extendable bucket and boom allows the operator to fill the waste bunker bins effectively without spilling any waste materials. The interchangeable front attachments, which include, a material handling bucket, pallet forks and a grapple bucket, makes this machine ideal for a number of different applications.