The reasons for purchasing the new DX225LC excavator include the high productivity, operator comfort, safety and low maintenance offered by the machine. The new DX225LC is based at the Ovenden transfer station at Tilmanstone, where the machine sorts and stockpiles materials such as construction waste, hardcore, concrete, soil, metals and wood brought to the site by customers or in the company's own fleet of waste trucks and skips.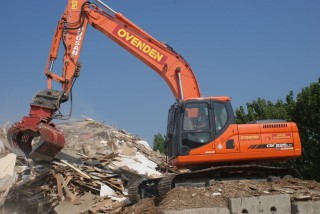 The excellent working range and lift capacities of the DX225LC contribute to the high productivity offered by the excavator. One of the principal applications for the machine at Ovenden is for sorting, storing and reloading wood waste. With specifications that include a maximum digging reach at ground level of 9.3 m and a maximum dump height of 6.83 m, the DX225LC has the range to work quickly in and around the wood pile, both storing and unloading wood for recycling.
To meet Ovenden's requirements, Promac Solutions fitted an additional rotation circuit to the DX225LC excavator so that it can operate a grab attachment to handle the wood waste. The machine's operator, John Faithfull, uses the grab to stockpile the wood waste brought to the transfer station, before using the grab again to reload the wood from the pile into articulated trucks for onward supply to chipboard manufacturers. All of the features on the DX225LC combine to allow Mr Faithfull to fully load one of the articulated trucks in just 25 minutes.
The DX225LC is in continuous operation at the transfer station. When it is not handling the wood waste, the Geith quick hitch on the excavator allows Ovenden to change the grab to a shear attachment for reduction work on the concrete and other construction waste materials stored at the Tilmanstone depot.
With the number of hours the machine works, it is essential that an excavator of this type offers a comfortable, safe and productive environment for the operator and this formed an important part of the purchase decision made by Ovendens. Mr Faithfull has been very impressed with the operator comfort offered by the DX225LC and he says it is a pleasure to work with the machine.

Mr Faithfull is particularly impressed with the spacious cab on the new DX225LC which is fitted with an adjustable suspension seat with headrest and adjustable armrest as standard. He said: "The visibility from the cab is excellent, giving a full view all around the machine and of the tracks. The excavator is also fitted as standard with an on-board camera and the images from the camera are displayed on the control monitor, which gives me a clear view to the rear of the machine for increased safety when manoeuvring and reversing the machine in the tight confines of the depot."
The DX225LC from Doosan meets all the performance and long service life requirements at Ovenden which prides itself on the maintenance and care of the plant in the company's fleet. Mo Ovenden, who is a joint Director of the business with her brother, Alex, said: "As well as the depot at Tilmanstone which opened in 1997, we also run two inert landfill sites and two chalk pits and, even though they are worked hard like the Doosan DX225LC, some of the equipment has been working at these sites for many years, including a Priestman excavator dating from the 1970s, which is a testament to how well we look after our machines."
Cont…