The new DX520LC excavator was purchased from Cleveland-based Doosan dealer, Construction Plant (Suppliers) Ltd, which has been providing Banner Contracts with Doosan excavators and wheel loaders for a number of years.
Construction Plant (Suppliers) is the authorised dealer for the Doosan ranges of crawler and wheeled excavators, wheel loaders and articulated dump trucks in Northumberland, Durham, Cleveland, Tyne & Wear, North Yorkshire, West Yorkshire and East Yorkshire.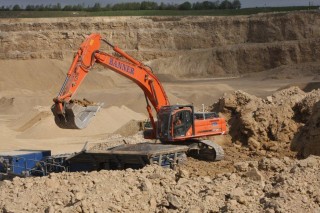 Jo Banner, Company Director of Banner Contracts, explained that while the S470LChad put in some sterling work, the new DX520LC met a need for an excavator which could provide greater output. "Our output of crushed rock is governed largely by the rate the crushers can handle it," he explains. "It is essential our prime mover, the new DX520LC, has the ability to ensure the crushers are always working to full capacity."
In the DX520LC, power is provided by the Doosan DV11 six-cylinder engine having common rail fuel injection and rated at 245 KW (328 HP) when operating at a leisurely 1800 rpm. Each cylinder has four valves which helps to improve gas flows and, combined with common rail, results in better combustion and greater fuel efficiency overall.
Doosan's Electronic Power Optimising System (EPOS) connects the engine to the excavator's hydraulic system via a CAN communications link, helping to ensure optimum power settings are used in respect of the different demands made during digging and loading cycles, and fuel is saved as a result. Considered to be the brains of the machine, the EPOS also has responsibilities for providing a self-diagnosis to enable any technical problems to be identified and to keep an eye on maintenance and oil changing intervals.
Although still a relatively new machine, Mr Banner said fuel records already showed a good fuel saving. "The excavator works a 10 hour shift for five days a week which equates to a saving of 100 litres of fuel a week or over 5000 litres for the year," he said, "which is an important saving for us."
With EPOS, the operator is provided with a power mode which makes 100% of engine power available for heavy work, and there is a normal operating mode which can be selected for general excavation, loading or lifting tasks.
When digging out the shot blasted rock and loading it into the crusher/graders, Mr Banner points out that his operator prefers to have the machine set in power mode. "He reports that cycle times are quicker and the whole working of the machine is smoother," he said. "Output, which can amount to several thousand tonnes each day, is certainly more than enough to ensure the crushers' insatiable appetite is always sated."
In the all important hydraulic department on the DX520LC model, two variable displacement axial piston pumps have a combined maximum flow rate of over 700 litres/minute. Relief valve settings for the boom arm and bucket are 314 bar in normal mode and 342 bar in power mode when extra operating force is required.
Helping to making efficient use of all the hydraulic power available is a boom and arm flow regeneration system. This stores the energy created by oil being pressurised as the boom and arm are lowered and makes it available again when they are raised.
In addition to its output potential, one of the main reasons the DX520LC was purchased by Banner Contracts was its 10.75 m reach and 9.6 m digging height which enables it to reach and dress the edges of the shot blasted areas.
"The quarry geotechnical assessment, which requires a machine with the reach to scale faces safely, makes the DX520LC a good choice," explained Mr Banner. "It's an important issue and we are pleased to have a machine that performs so well in this area."

To ensure that Banner Contracts gets the maximum out of this efficient and powerful excavator, Doosan knows that work rate is directly linked to the comfort and performance of the operator and has ensured that the operator has a work environment that puts them totally at ease when working with the machine.
Jo Banner said: "If we expect 10 hours of gainful work a day, then the cab, the controls and the environment have to be just as the operator wants them to be. And it's good to hear our operator report that he is pleased with the degree of comfort the cab offers in terms of the control layout, the improved visibility, the amount of space and the fully adjustable seat. I wouldn't expect anything else for this class of excavator."
Maintenance of the entire Banner Contracts' machinery line-up, which extends to over 100 crushers, screeners, wash plants, loading shovels, excavators, dozers and dump trucks is carried out by its own team of service engineers.
The low maintenance demands of the DX520LC and the reduced downtime that results, is welcomed by Mr Banner. "Engine and oil filter changes are at 500 hours which means a service is required about every 10 weeks or so and other oil and lubricant changes are scheduled at increased intervals," he explained. "Greasing for the boom and arm are from a central service point which saves time and there are other features such as a reversible fan which can be used to blow dust out of the radiators and there is good access to filter housings and so on."
Clearly, for a quarry to exist profitably it needs to have machinery and systems in place to extract stone in the most economical way available.
In Mr Banner's opinion, the Doosan DX520LC now plays an important role in helping the quarry achieve these aims. "To date, it's been reliable and has managed to achieve all we have required," he says. "We couldn't really ask for more."
Banner Contracts is no stranger when it comes to operating quarry machinery – the company has had the task of carrying out processing operations at Lafarge's Thrislington quarry for the last nine years. The Thrislington quarry mainly produces kiln-fired dolomite for use in the iron and steel industry.
In total, 1.2 million tonnes of crushed magnesium limestone is extracted from the quarry each year, about half of which is processed in kilns to create dolime and the remainder is used in civil engineering – road stone, concrete mixing and so on.
Machinery in use at the quarry has changed dramatically since the quarry was started in 1949 – Ruston Bucyrus loading shovels, some powered electrically and others by diesel engines, were used extensively only giving way to the 360 degree excavators and rubber wheeled, articulated loading shovels in latter years.
Hand in hand with changes and improvements to the quarry's machinery has come the installation of more efficient and higher capacity kilns installed as demand by industry for dolime increased. Today, there are three kilns in operation with the last one to be put in place having a 5000 tonne/week capacity and, as a result, more than doubling burnt product capacity at the quarry.
For more information about Doosan construction equipment, visit the website: www.doosanequipment.eu