This new range of machines are the first to not only be manufactured but also designed and engineered at the company's North American facility.
The idea to design and build these models in the States comes as no surprise really. Olli said "when you consider that North America generates around 60 per cent of the worldwide demand for skid steers and compact track loaders, it makes a lot of sense to manufacture them in America"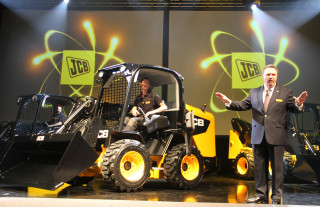 The new range that the company feels will have universal appeal, consists of seven new skid steers, of which four are wheeled versions the 260, 280, 300 and 330, and three tracked models comprising the 260T, 300T and 320T. All these latest models feature the vertical lift concept, which allows for increased capacity and more reach at maximum lift height. The range will eventually comprise of 18 different models in total.
Olli told us that in Finland, Bobcat is the current leader in the Skid Steer market, but he can see these new JCB machines having a serious impact on the market share. Olli was impressed with many of the features on the new product, which includes a tilting cab for increased service access, the isolated cab which also features a heated air-suspension seat is sealed and pressurized, the ease of access to the JCB cab is a big plus point too, not having to climb into the cab over the front bucket is so much safer for the operator.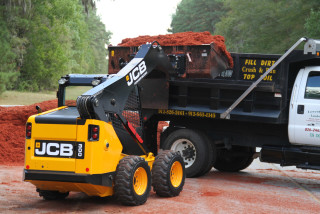 Other new features include multifunction joysticks with an attachment control harness, a fully hydraulic quick hitch for quick changing of equipment, O-ring face seals for all hydraulic connections, and a complete new range of over 30 types of JCB attachments.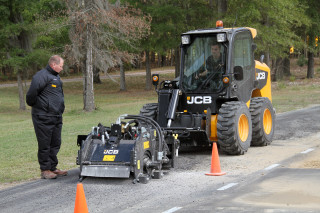 The new JCB machines are claimed to have "best in class visibility" and feature the unique new "PowerBoom" design, which uses a single arm, as opposed to the conventional two arm skid steer design adopted by most manufacturers. This was another feature that impressed Olli who said "The visibility from within the cab was excellent with an almost 360 degree view from the seat". The visibility issue is also further improved by the absence of any mesh screens that are common on many makes.
Olli Paivio writes for the Finnish magazine and website Koneporssi
The trip to America for this launch was as one can imagine a long and tiring one and we thank him for sharing his report with us here on the Digger blog.