Sand and gravel buried beneath a lake would be out of reach for many excavators - but the Hitachi super long front ZX350LC-3 extracts the materials with ease. In Naujac-sur-Mer, the super long front ZX350LC-3 digs to a depth of five metres, removing 70,000 tonnes of raw materials from beneath the man-made lake each year. At a second location in Queyrac - which processes 30,000 tonnes of aggregate annually - it excavates to a depth of nine metres.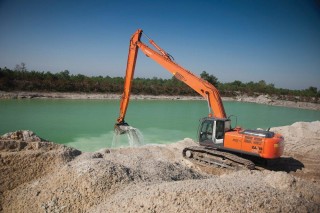 Sarrazy T.P., which was taken over by the Colas Group in 1992, took delivery of the Zaxis medium excavator in 2009, from local authorised dealer, DB Equipment. "We needed a machine that could dig deep into the water," says Christian Bell, the Area Manager for Sarrazy T.P. "It was also bought to work at the two sites, so we needed a versatile and reliable solution. The super long front ZX350LC-3 has already proved its worth in these respects."
The Naujac sur Mer site - which also recycles 15,000 tonnes of concrete per year - was originally a pine forest, but it was wiped out by a huge storm in 1989. The lake there has been created by materials being excavated and left to dry around the side of the pit. It has become a haven for wildlife, attracting herons and gulls, enhancing the biodiversity of the environment.

The super-long-front's 18m front attachment is ideal for working under the water and the machine also loads Sarrazy's fleet of articulated dump trucks. However, the company has recently ordered a Hitachi ZW220 wheel loader, which will take over the latter task.
Christian is confident the wheel loader will be a wise investment. "We decided to buy the ZW220 because of the success of the ZX350LC-3," he says. "We are delighted with the support provided by DB Equipment and have established an excellent working relationship together."