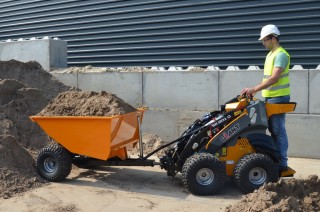 Tobroco currently turns out approximately 2,000 of its distinctive wheeled loaders and telehandlers a year, using substantial Kubota and Bosch Rexroth componentry, plus a further 4,500 attachments.
Tobroco unveiled its first skid steer loader during a factory open day in October 2014. After more than a year of further development and testing, this little Giant was ready for production. A new production line has been specially built for it at the factory in Oisterwijk, and as of last month it is now in full production.
The first machines have already been delivered to dealers in the UK as well as Germany, Switzerland, the Netherlands and Denmark.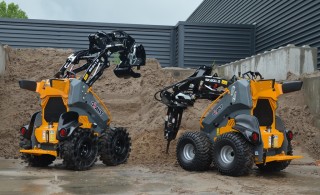 These Giant skid steer loaders are actually not giant at all, as you can see. They weigh in at just 750 kg and combine compact size with high tractive force and a 230 kg tipping load. They are driven from the back, with the operator standing on a ride-on plate.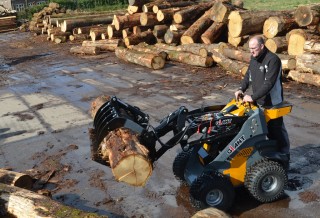 There are currently three different models in the series. The SK 211 G is a petrol (G for gasoline) version with a 21 horsepower engine. The SK 201 D and SK 251 D are diesel fuelled with 20 and 25 horses respectively. Here they all are, shown below.
If you think they look interesting, the UK dealers are: TRP in Sleaford, Doncaster and Perth; Johnston Tractors in Carlisle, Appleby and Dumfries; Border Plant Sales in Cheshire; Thurlow Nunn Standen in Ely; Kirkland UK in Maidstone; and Ballyward Plant Services in County Down.