There were not many takers at that time, despite visiting some of the bigger players in that area including Weldon's and Mainland Plant, both of which I believe are no longer trading. Then after thinking I would have to continue working in Southampton there was a breakthrough when a company who shall remain nameless offered me a start on a housing site in Brixworth on a JCB JS200 like the example shown in this photo.
The machine was one of the original JCB/Sumitomo machines and although it looked like it had been through the wars, it performed well and was an excellent machine to operate.
Well I worked for two weeks and all seemed well working on deep drainage and then after completing the job I got laid off! To cut a long story short this company were notorious bad payers and I had a real struggle to get what I was owed from them, but luckily after a couple of weeks of pestering on the phone I got a cheque in the post.
So we were back on the road in a last ditch attempt to find a good job, as we drove through the village of Blisworth, we spotted James King Garage which was the office for James King Plant. We had a quick chat with Sam King and left my phone number then drove on, later that day I got a call from Sam offering me a start on a Komatsu 120 at a place called Brackmills the next day.
From that day I never looked back. They were and still are an excellent company to work for. The business is run by three brother's, Sam, Pat and Seamus, who took the business over when their father James (Jimmy) King passed away. They are all sound lads who are very down to earth and like to get hands on out in the field.
My next job with them was in Coleshill on the Hams Hall development near Birmingham, driving a Volvo 5350 articulated dumptruck, which was being loaded by James Kings Cat 225DLC, which was a machine I was also to operate from time to time.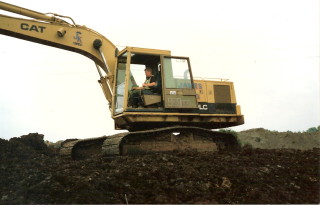 One morning we were all given the sad news that the "rubber duck" driver who was affectionately known as "Bunny" had collapsed and died whilst on holiday, this left his Caterpillar 212BFT without an operator and I was asked if I would take it on.
It was my first time operating a wheeled excavator and to start with I was not a big fan, but as I got used to it I found it a very enjoyable machine to operate, and you always had an interesting variety of jobs to do with it. It was fitted with a tilting grader bucket and I spent a lot of time doing finishing landscape work which has always been my favourite type of job.
I spent a great year in Northampton with the Kings where I was nicknamed "Nico" for some reason. There was always great banter with the likes of Wally, Sean, and Geordie, the grader operator who is still with the company to this day. I recall on one occasion when I was in a dig and Pat King said to me "Come on Nico you're a muck savage now, rip it out!" a statement which caused much laughter for months to come.

In 1997 we moved down to Devon as my partner continued to pursue her career in teaching and sadly I had to leave my job with the James King boys.
But in 2005 I went back to work with them for a few months on a job in Cambridge which was featured in Earthmovers magazine, operating a Cat 215DLC, alongside some of their other machines which included a Halla 360LCH-II, a Volvo EC240BLC, Volvo EW160B, Caterpillar 953C & 963C tracked loaders, CaterpillarD6M dozer, Volvo A25C, and 2 x Terex TA30 dumptrucks. During my second spell with the Kings I made a good friend in Nick, a fitter who had worked for O&K for many years and had been involved in building and maintaining many of the large O&K excavators that were put to work in the UK.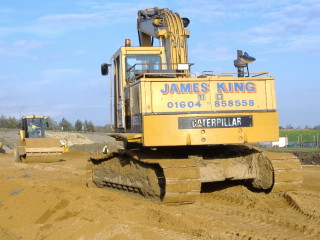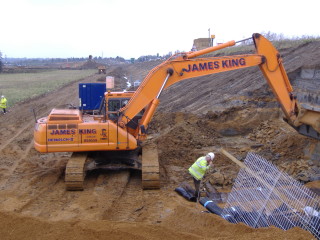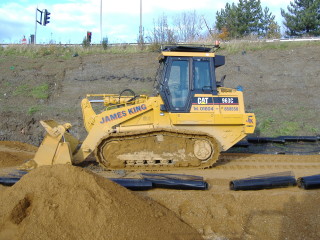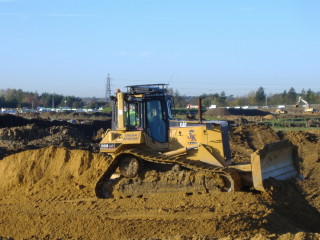 The company now runs a 50 ton Hyundai excavator in addition to those machines listed above as well as mini diggers, a road sweeper and low loader services.
James King Plant are a very professional outfit and one company that I would be very happy to work for again if the opportunity arises.
In part six of my life in plant series, I will describe the tough times that I met in trying to secure a good job in the challenging West Country and the reason I decided to try to have a go at running my own business.