Well things have gone from strength to strength for Don, with a consistently full order book, so much so that the business has recently invested in a second larger machine which is an A71 model.These unique machines which are affectionately known as "spiders", are often used when the terrain is too steep for conventional excavators, or other types of machine like drilling rigs for example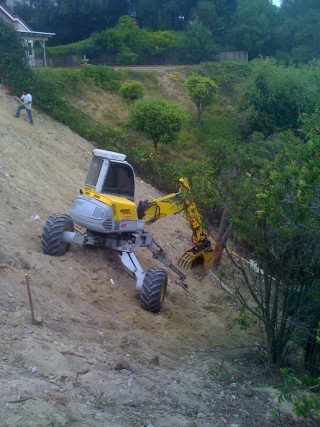 .
In the hands of an expert operator, it is said that these machines can be more productive then other machines in the same weight class.
Don says "The secret to these amazing machines is their ability to adjust their shape and contour to match the undulating terrain. With the ability to transform itself from 6 to 17 feet wide and from 8 to 14 feet tall with a jib range of 24 feet high, the spider hoe can be the most useful small excavator on the job".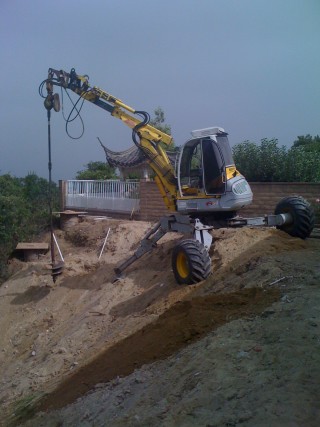 Don has recently been working on a stretch of the famous Interstate 405 highway performing road widening work, working on steep inclines while traffic continued to flow beneath him as these impressive pictures show.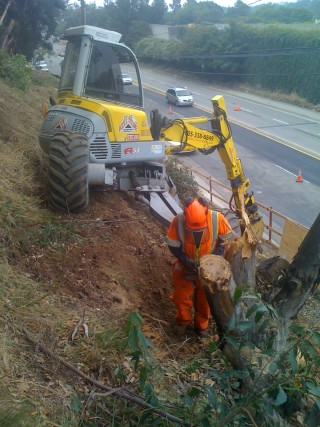 Both machines will be heading up to Tahoe Nevada shortly for a three week contract, then back to Brea shortly after.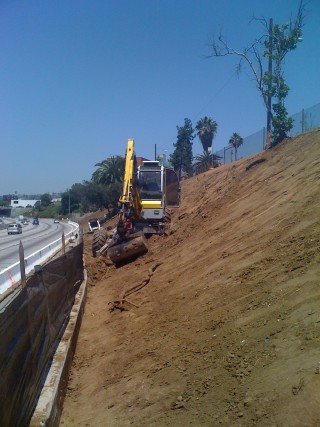 Commenting on his admiration for the Menzi Muck machines Don said, "The more I run these machines the more I realise how much more usable they are then similar sized conventional excavators, they simply have more power and can go virtually anywhere. On a recent job I was able to sit on a steep slope and auger a 30" hole down to 18 feet in a place they would never have been able to put a drilling rig in."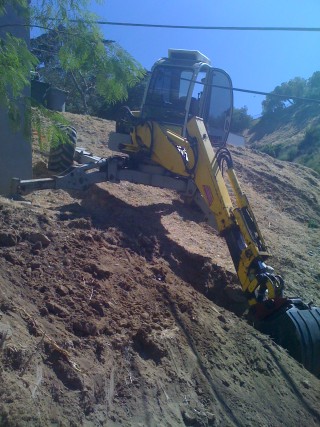 If you are looking for steep slope work to be done in California why not give Don a call. You can find all the contact details on their website.