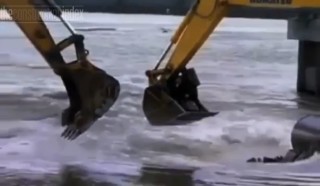 The resourceful bridge builders cross the icy waters with the assistance of the buckets of a Komatsu K400 and a CAT excavator.
In the middle of the icy waters the workers make the thrilling leaping of faith to the next bucket, as the machines transport them from one side of the river to the other.

Each bucket holds around five of the workers at a time, plus lunchboxes etc. .. Seems to be a tried, tested and trusted mode of transport, based on the orderly queue…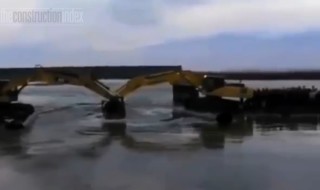 In the background, you see the bridge the workers are building over this fast flowing river..