Austin Wilkinson originally comes from a haulage background, with his grandfather owning his own haulage business. The business was later passed onto Austin's father, who himself was a mechanic with a background of engineering and fabricating. As such, in his formative years Austin often found himself around engines and spanners. This experience was further enhanced when his father decided to go it alone and set up in business as a diesel fitter specialising in plant, transport and steel fabrication. Some years later Austin's father bought an old house that required knocking down to facilitate building of a new property. It was at this time that Austin caught the digger bug!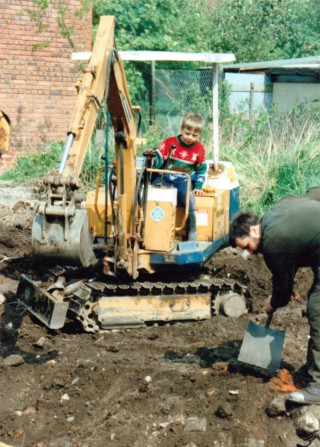 Austin's father bought an old JCB 806 hydraulic excavator and a Thwaites 2 ton dumper to do all the demolition and groundwork's for the new family home, and it was in this classic JCB machine that Austin fine tuned his operating skills from a young age.
Austin would spend many hours at the controls, often sat on his father's lap being taught on the correct operating techniques, something I'm sure many of us can relate too. Needless to say from that time forward Austin was hooked on diggers, and birthdays and Christmas's became perfect opportunities to receive model diggers and other JCB digger related items.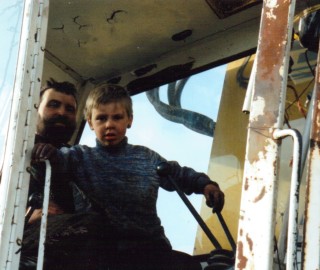 Austin's father had a customer called P.P. O'Connor which was run, and still is to this day, by Peter & Justin O' Connor, who became very good friends. At the time, Austin used to go out with them on the weekends, travelling around the various jobsites, moving machines on the low loader. Austin was allowed to load and unload the machines, something he continued to do well into his teenage years. With such a good relationship with the O'Connor boys, it was inevitable that Austin would end up working for the company. He joined them straight from school and continued to work for them jumping on and off machines as a relief driver and running some sites for them, until in 2008 at the age of 22, Austin decided it was time for a change, just to see how other company's worked. Austin then joined Andrew Connolly's of Accrington, where he spent the following two years operating a Volvo EC290B, before returning to O'Connor's in 2010 to take the seat on a New Holland 50 ton machine.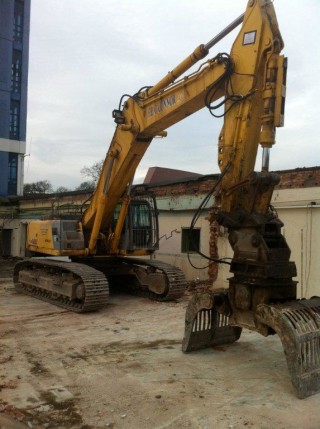 The 50 ton machine was later sold and Austin was bought a brand new New Holland 305C, which he operated on a number of jobs, including a site in the North East where he was deployed to dig out bases for wind turbines, and more locally demolishing schools, factories and even Austins' old high school. Like many though, Austin has always had a desire to have a go on his own and after many months of behind the scenes planning and support and backing from his mum, dad and close family, last week Austin became the proud owner of a full demo spec Komatsu PC290-8.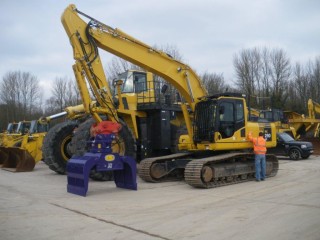 AW Demolition's first machine has been supplied by UK dealership Marubeni Komatsu of Redditch, and is an excellent condition 2011 model PC290-8 with just 2400 hours on the meter. Talking about the deal Austin said "I've been very impressed with the team at Komatsu, and sales woman Kerry has been extremely helpful throughout the process". Austin has added the very latest British designed and manufactured, NTSG20-HD selector grab from Northerntrack to his new machine.
This 2013 model is aimed at machines from 28 to 36 tonnes in weight. According to Northentrack MD Andy Hair, the new style grapple shells are constructed from top quality Finnish Ruukki Raex 400 steels and the grapple ribs have been increased in plate thickness by around 25% over the previous model. Replaceable wear edges are 420HB material and equipped with plow bolt style fixings for easy installation and maintenance. The grapple shells are 1150mm wide and the maximum opening of the grab is 2000mm. The grapple was fitted in Marubeni Komatsu's yard the day after Austin picked it up from Northerntrack's factory in Leeds, and I think you will agree that the whole set up looks very impressive.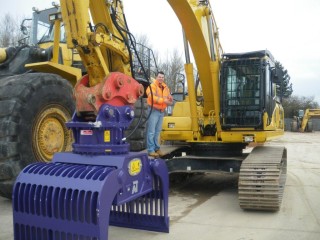 The machine will shortly be heading for its first job, where Austin will be on hire to PCD Consultancy (UK) Ltd of Stockport, who according to Austin have been extremely helpful in supporting him with this new venture.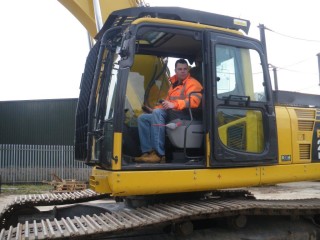 It's a massive step branching out on your own, but I am sure with his family support and many friends in the business Austin will do very well in the game. I personally and on behalf of the Digger Blog, wish him all the very best with the new business.
If you are looking for demolition work to be done in the Manchester area in the future why not contact Austin at AW Demolition on 07834861081 or visit his new website www.awdemolition.co.uk