One of the highlights will be Takeuchi's 8.5-tonne TB285 excavator, this has already drawn plenty of favourable comments since its launch last year. However, I'm sure there will still be a number of visitors at Plantworx which have not yet had the chance to see it up close. I am one of those.. this could be my first experience behind the sticks of a Takeuchi machine.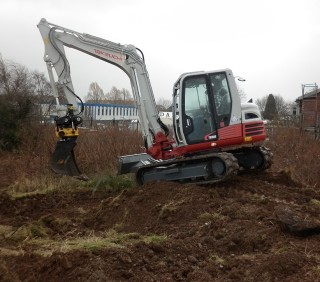 The TB285 is the successor to the 7.5-tonne TB175, of which close to 1,800 units were sold in the UK and Ireland since its introduction back in 2000. Improved operating features on the new machine include auxiliary hand and foot controls, eco modes, engine efficiency, angled dozer and more foot room.
There is also a little more beef, with bucket digging force increased from a maximum of 52.7kN to 59.1kN on the new model. Despite this, tail swing has been reduced from 1720mm to a more svelte 1650mm.
For the tool and plant hirers visiting Plantworx, the new compact Takeuchi TB215R 1.5 tonne will be worth a look.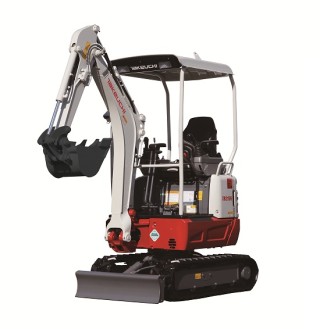 The 1.5 tonne mini remains a very popular size, it's designed for working in limited space, utilities streetworks.. etc, offering an increased bucket and arm dig force of 14/9.5kN, yet has an extremely short tail swing. Its within legal towing limits and make this a perfect utilities and tool hire option with extended tracks and auxiliary hydraulic ports for onsite tools.
As well as the new models, operators will be invited to try out TB215R and possibly a few other Takeuchi models, from its 14-strong stable.
Be sure to stop by stands L2 & L4, where you will be able to compare performance by size and put your skills to the test, by taking part in a zero tail swing competition – testing your "foot-ball skills"
Visitors will also get a first look at the euro version of the new wheeled option 9 tonne TB295W (UK version) which will be available later in the year.