Terex Compact Germany, based in Crailsheim, is what we used to know as Schaeff. It is launching an entire menagerie of mini excavators at Bauma – six new models, in all, from 1.4 to 3.7 tonnes – in what the company calls its biggest ever new product development push.
This new line-up includes the TC14-2, TC16-2, TC19-2, TC22-2, TC35-2 and TC37-2 models. Additional Dash-2 models are promised over the course of the next two years to further expand the series. These machines are being marketed as having "XL digging performance, XL workstation and XL operation".
Terex says that its own in-house tests show that the new models offer up to 20% faster trench digging times, on average, compared to "popular competitors' models". The new minis have the LUDV hydraulic system (load-independent flow distribution), which directs power to the function that needs it at any given time, so all the power goes in the right place and there is no wasted energy. Even in hard ground, the bucket offers "outstanding" penetration, the Terex blurb says.
For attachments such as hammers or cutters, the second auxiliary circuit is operated with electrically proportional control. This is a standard feature on the three larger models (TC22-2 and above) and is an optional extra on the smaller models.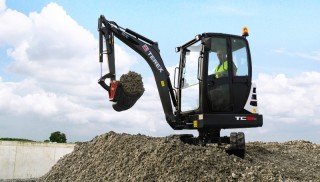 The cabin on the models in the 1.5-tonne class has a door on each side to aid entry and exit, and to maximise visibility. The console can be raised to make more space climbing in.
The engine hood also opens wide for servicing and all fluid levels can be monitored through gauge glasses. The fuelling port is sufficiently accessible to allow direct fuelling from canisters rather than having to use a hose.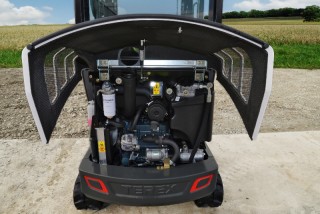 While much is new, the familiar Schaeff Knickmatik boom geometry, which allows it to operate close to walls, is retained, along with the top-mounted cylinder concept and short tail swing.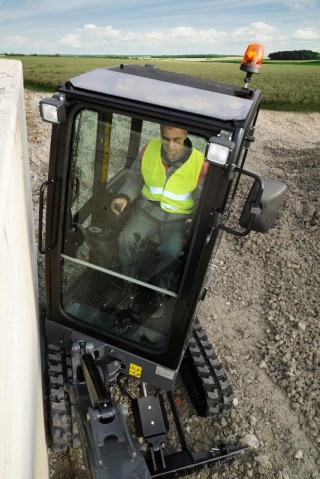 Terex Compact UK – that's what used to be Fermec, before the relocation from Manchester to Coventry – will be showcasing a new site dumper and a new backhoe loader at Bauma 2016.
The new backhoe loader, the TLB830, has the word "revolutionary" attached to it in the marketing blurb. It is the baby of the Terex backhoe family, with a 56kW engine rather than the 70kW of the bigger 840 and 850 models. Terex says that it has been "specifically designed with the rental marketplace in mind".
I don't have a photo of this machine yet, I'm afraid, so the best I can offer you is this: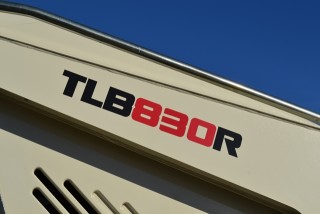 Control for the TLB830 comes from Husco open loop system hydraulics, with tandem gear pumps delivering 128lpm maximum flow rate at a maximum of 250Bar.
The new TA9SP site dumper has a 9-tonne payload but is evidently a bit fancier than the regular TA9 dumper. It has swivel tip functionality and a new Powershift transmission, combined with Auto-Shift technology. It also has a patent-pending Stop-Start feature, which I'm not too clear about at this stage.
Paul Macpherson, sales and marketing director at Terex Compact UK's Coventry facility, says: "As the largest trade fair in the world, exhibiting at Bauma is a key date in our events calendar. We're looking forward to sharing our latest range of compaction rollers, site dumpers and backhoe loaders with visitors to the event, alongside showcasing a number of new technology and engine updates for 2016."