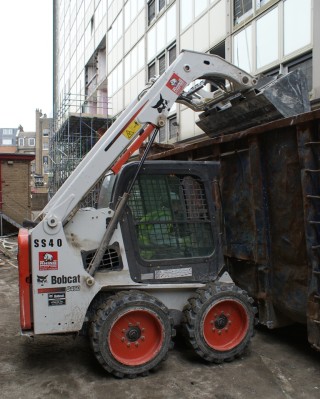 And one of these little marvels has been proving its worth helping to bring down the physical pillars of government propaganda.
Rhino is looking to up the numbers in its skid-steer loader fleet and now has approximately 50 units, including several Bobcat S70 and S100 skid-steer loaders.
Steven Shelford, who runs Rhino Plant Hire along with fellow director Nick Bloxham, says: "We formed the business in 2002 and have been offering skid-steer loaders for hire for over 10 years. The Bobcat S70 and S100 models have been excellent performers in our fleet and when Bobcat of London showed us the new S450 skid-steer loader, we were very impressed with the solid build and design of the machine and ordered two of them straight away.
"The feedback about the new Bobcat skid-steer loaders from our customers has been very good. We have a wide range of companies and individuals hiring skid-steer loaders from us, from demolition and groundworks contractors to landscapers and farmers."
One of the new S450 loaders is being used by Billericay-based KCP Demolition for work on Hercules House in Lambeth. Hercules House was previously home to the government's Central Office of Information (COI) and is now being converted into a 438-bedroom hotel.
KCP Demolition is stripping out the nine-storey building, removing internal stairways, office partitions, ventilation systems and internal and external cladding.

Columns inside the building mean space is tight. The compact S450 is ideal for this sort of work, getting in where a bigger machine cannot. Working on each floor of the building, the new loader has primarily been used to collect, load and remove all the debris resulting from the internal demolition.
KCP Demolition director Keith Plenty says: "The new Bobcat S450 skid-steer loader is an excellent tool for demolition work. It is a small machine particularly suited to the restricted space work found in demolition and other areas of building and construction."
With a rated operating capacity of 608kg and tipping load of 1215kg, the S450 has a height to bucket hinge pin with the arms in the fully raised position of 2781mm and a dump height of 2157mm.
"The impressive load capacity and dump height have made it very easy for us to use the S450 to dump debris through windows and chutes and into the large waste containers on site," Keith Plenty adds.