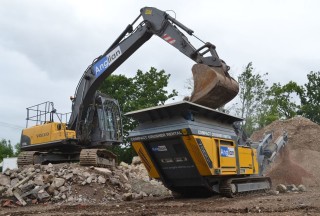 The majority of Anglian Demolition's contracts consist of social housing, single buildings and commercial properties. It explored options such as crushing buckets and traditional jaw crushers but soon decided its best solution was a compact mobile impact crusher that could be transported easily and did not take up too much space on its smaller sites. It took a demonstration Rubble Master compact crusher on trial from ECY Haulmark and found it a perfect fit.
As a direct result, Anglian Demolition & Asbestos has bought a Rubble Master RM70Go!, pictured above, from ECY Haulmark.
The company, based in Attleborough, weas set up in 2009 and just last month passed muster to join the National Federation of Demolition Contractors.
Managing director Lee Storer says that having the RM70Go! has been a benefit even at the tendering stage of the demolition process. Because of the quality of the 6F2 type material produced, Anglian is able to sell it on to the developer for use in future construction on the same site. This means that no heavy vehicles are entering the site to take out the demolition waste or bring on pre-crushed materials for the follow-on construction stage.
"To be able to crush the demolition waste and sell it for reuse on the same site is a win-win situation for us," he says. Another advantage is the Rubble Master can be operated and loaded by one person.

The single piece vibro feeder has integrated pre-screening and can recycle up to 160 tonnes of brick and concrete waste per hour to produce a re saleable product.
Here's some footage of the machine at work...