James Kingan & Sons Sawmill can trace its history back to 1860 and has been owned by the same family for five generations, gradually expanding to meet market demands.
The 680T has replaced a 10 year old Kramer 418T which had provided in excess of 20,000 hours of almost fault-free service. The new machine will be used mainly for transporting timber to and from the treatment plant and for loading finished goods onto delivery vehicles.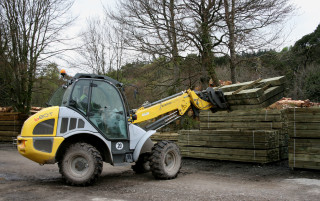 The sawmill currently handles approximately 20,000 cu m of softwood per year and, besides supplying products to builders, farmers and fencing contractors across the UK, the company also manufactures some 50,000 pallets every year for local customers.

The 4-wheel drive and 4-wheel steer 680T is powered by a Deutz turbo diesel engine developing 58kW (79 hp) which is coupled to Kramer's latest high-pressure hydrostatic transmission which provides up to 23% more tractive force than the previous model.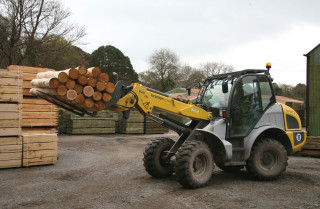 Despite its compact dimensions, the telescopic boom of the 680T provides an impressive lift height of 4680 mm and its rigid frame layout ensures outstanding stability at all times.