Although this exhibition is primarily aimed at the small tool hire sector, there were a few things on display for those of us with a keen interest in diggers.
First thing that caught my eye from the amassed 116 exhibitors was the latest offering from Takeuchi, the TB128FR, which is a new model to the UK market.
A very compact machine which actually weighs in at 3360kg and is sure to become very popular with the major hire fleets.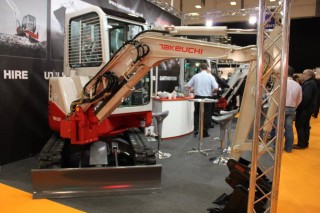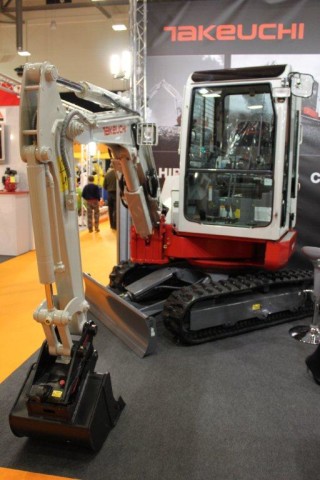 Rollers were also in abundance at EHS 2011, with examples from JCB, Ammann Equipment and Volvo on display. The JCB VMT160 - this hydrostatically driven machine, is equipped with what JCB describe as an industry leading 45 litre fuel tank enabling the operator to work much longer between refills.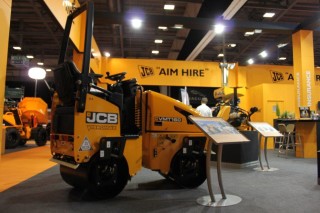 It also has a fully pressurised 125 litre water tank and has double, single-front or single rear drum vibration modes.
The Volvo DD24 roller was presented on the Volvo stand alongside two models from the mini excavator range in the shape of the EC18C and EC15C.
Something else that caught my eye was the range of compact multi functional loaders from Finnish company Avant Techno Oy, which I hope to cover in more depth in a future blog post.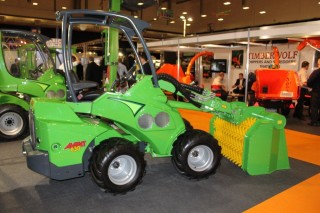 One example from the display was this Avant 630 model, equipped with a screening bucket. This machine is fitted with a telescopic boom and when fitted with additional counterweights can transport as much as 1,250kgs.
Augertorque showcased this very useful concrete mixer attachment which can be fitted to a mini/midi excavator and is run by the auxillary hydraulic circuit, they can be supplied in two sizes – 120 or 140 litre.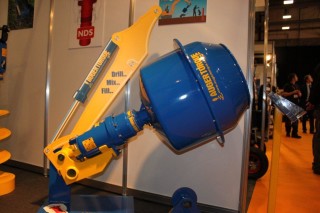 I personally could be very interested in one of these to fit my mini excavator, as there is often a bit of concrete work to be done around Digger blog towers!
The surprise launch at the show was a prototype skid steer loader offering from Ammann Equipment Ltd, displayed as the 903, I hope to bring you more detail on this new addition to the Ammann range soon.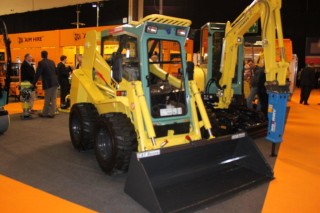 Although times are still tough, there was some upbeat talking being done at this event, with many of the exhibitors saying they had experienced some good interest about the products they were displaying.
Let's hope it was a good show for all who attended.