Today there are around 20 major excavator manufacturers, all of whom have well-functioning systems for operating quick hitches. However, the operation and location of the quick hitch lock buttons differ according to manufacturer and model.
Consequently, in situations where the excavator operator uses different machine types, there is a risk of incorrect operation. It's comparable to having different positions for brake and accelerator pedals depending on the make of a car, Engcon says.
"Here at Engcon, we're taking yet another step forward in our safety efforts. Our goal is to standardise and make the operation of all quick hitches safer for all excavators," says Stig Engström, Engcon's founder and owner.
Engcon's QSC quick coupler locking system minimises the risk of activating the wrong button or function, he says. QSC is compatible with every make of excavator, tiltrotator and quick hitch on the market. The system consists of a control panel with a switch to activate the excavator's quick hitch and another to activate the tiltrotator's quick hitch. All functions are brought together in a panel that is always located in the same position in the operator's cab.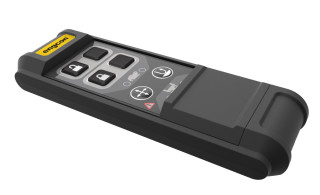 "QSC is part of our Non Accident Generation, and now we've created a quick hitch operating standard. An operator switching from one excavator to another must be able to recognize the controls easily and thus minimise the risk of dangerous mistakes," says Stig Engström.

The quick hitch locking system can also control most quick hitch versions on the market and improve the function of fully hydraulic solutions and quick hitches such as Oil Quick, EC-Oil, etc. When using QSC, the quick hitch – regardless of make or model – has an additional safety function in that it requires ground pressure on the bucket to release it. This means the bucket cannot be released in the air, thus reducing the risk of accidents caused by falling buckets.
There is also an audio-visual alert system. If both bucket axles are not in the correct position, the system flashes and bleeps while also activating slew lock and boom lock functions.
"The QSC and Q-Safe quick hitch combination means Engcon delivers one of the world's safest quick hitch operating systems. This means the operator always knows what is happening and when it happens," concludes Stig Engström.
QSC will be available in limited numbers from June 2016, with series deliveries anticipated to begin in November.
There's a video here too: