A net weight of 613 tonnes, together with a length of 153 meters, a height of 12 meters, and a width of 1.4 meters, should leave no doubt that lifting the hangar door truss was anything but a routine job for site manager Karl-Heinz Große and his project team. The enormous component's purpose: After the hangar is completed, the truss will bear the weight of its roll-up door, which will be 153 meters wide as well and will enable aircrafts to enter the hangar anywhere along its entire width. "We had to erect the whole roof truss central section segment—which weighs around240 tonnes—at the same time in order to make sure that we would get a structurally stable structure and would eliminate the need for expensive bracing as much as possible," explains Karl-Heinz Große.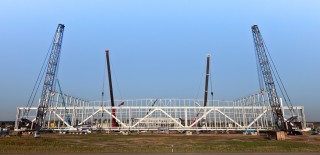 When dealing with lift operations of this magnitude, detailed plans are a prerequisite for a project to achieve technical and financial success.In this particular case, the solution revolved around a "motley" erection team made up of a total of seven cranes that had to be coordinated with exact precision in terms of travel, reach, and lift.Twelve synchronized radios for crane operators, signalers, and the head of operations were used in order to ensure that information and instructions would get to their intended destination immediately, and surely enough, both lift operations went exactly as planned.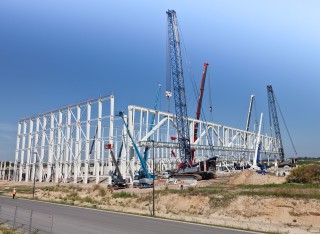 The door truss was first lifted and stabilized by the two CC 2800-1 units (working as the operation's primary crane tandem team) with the help of another two 500-tonne telescopic cranes, after which it was moved 15 meters to its final horizontal position. Once there, the truss was brought to an installation height of 30 meters between the outer walls, where it was anchored. Terex also played an important role during this process, as several Genie aerial work platforms were used in order to bring the necessary construction personnel up to the dizzying heights required for this work to be carried out. Once this was done, the two 500-tonne units increased their hook load to 100 tonnes so that the two Terex CC 2800-1 cranes would be able to unhook from the load and lift the roof truss central section segment together with two 300-tonne cranes. Once the central section segment was picked up, it was moved onto the door truss (still being held by the two 500-tonne cranes) so that it could be joined to the hangar's rear wall, thus completing the second multi-crane erection operation.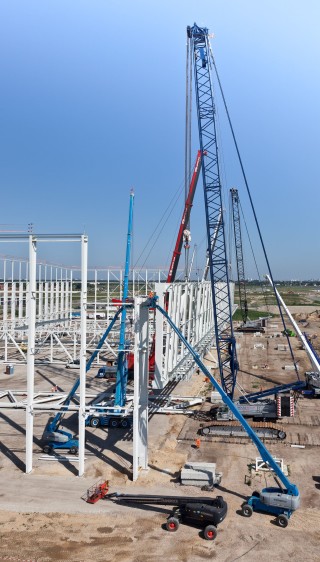 MAXIkraft project supervisor Walter Bachmann explains why he decided to use two Terex CC 2800-1 cranes as the primary crane tandem team in his multi-crane erection team: "The first basic step, of course, was to simply select the cranes according to the corresponding loads. The second criterion consisted of making sure that we would have nearly identical movement sequences and speeds. The decisive factor in choosing the two Terex crawler cranes, however, was the fact that they have outstanding handling characteristics and reliability. These sophisticated and powerful models have proven time and time again to be ideal units when it comes to projects revolving around travelling and lifting movements that involve multiple cranes." In addition to this, the crawler cranes' high degree of flexibility, not to mention the short times required to configure them, also provided an important advantage. A 60-meter main boom, an 80-tonne counterweight on the superstructure, and a 60-tonne central ballast on the carrier rounded off the cranes' ideal suitability for both lifts.
"Thanks to our perfect planning and performance with the right machines, this project turned out to be a smashing success for both us and our customers.We were able to leave the construction site right on time, at 10:00 PM. In fact, that was right before a huge summer thunderstorm hit. If we had taken a single second more, we would have been completely unable to finish our work on the steel frame," happily summarizes Walter Bachmann.