Karyl recently posted this photo on Facebook, and it has been doing the rounds on the machinery websites ever since. It shows just what can happen to even the largest and well constructed excavator buckets. The 44.5 cubic yard bucket in question, is mounted on an O&K RH340 backhoe, that is owned by Leighton Mining and works at the Poitrel Coal Mine in Western Australia. It has clearly opened up like a can of baked beans during some extreme digging conditions in the mine!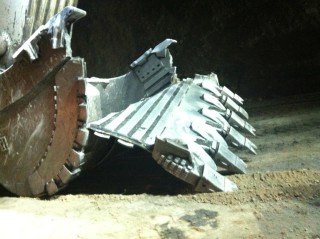 The RH340 is an impressive machine, which is nowadays seen sporting the Caterpillar yellow livery. It has an operating weight of 567 tons and is powered by either two Caterpillar 3512C engines, or it could be supplied fitted with two Cummins QSK45 engines, both set ups are capable of generating 3,000hp. This photo gives a great idea of the machines size, compared to the maintenance trucks seen in the foreground.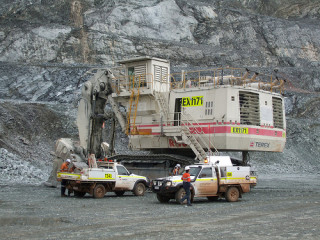 We thank Karyl for sharing his photos and look forward to seeing more in the future.