There was massive pre-show hype about Finning-Cat showing off the latest Caterpillar 6030 mining shovel to arrive in the UK, and anticipation was high amongst visitors I spoke to before the show opened. It was my intention to head straight down to see the mighty machine as my first port of call, and I have to say, it was quite simply a breathtaking sight when I first caught view of her. Of course, in the wider scheme of things this machine is still a baby in the company's mining portfolio, with the massive 6090 that features a bucket capacity of 52m3 (68.0yd3) being the big daddy, but by UK standards the 6030 is a big piece of kit!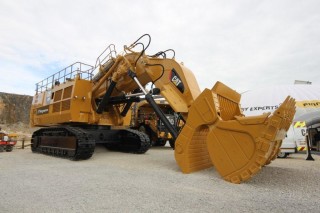 The 287 tonnes (316 ton) 6030 is powered by two x Cat C27 engines which give the machine a total net power output of 1,140kw (1,530hp), it has a face shovel bucket capacity of 16.5.m3 (21.6yd3) enabling it to load its preferred off highway truck match, the Cat 777G in just 3 passes.
We were given a guided tour around machine, and it really was an awesome experience. Everything you would normally find on a hydraulic excavator is doubled up on the 6030. In addition to the 2 engines, there are also 2 swing drive motors, and 4 main hydraulic pumps.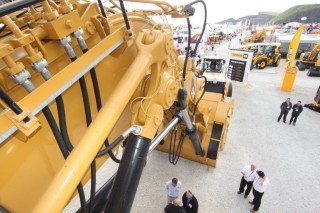 The cab on these machines is large and roomy and well appointed as one would expect. To the forward right of the cab is a board control system, where the operator can monitor all machine diagnostics including service details of engines, hydraulics and lubrication systems. Also included is a large 12 inch coloured touch screen system where the operator can source on screen information including operating instructions, technical handbook, spare parts catalogue and even an electrical circuit diagram.

Another interesting feature to see was the retractable service point, which is installed underneath the engine module, when lowered down the bank of quick couplings provides easy access for topping up fluids including, diesel fuel, engine coolant, pump transmission gear oil, engine oil, hydraulic oil and lubrication grease.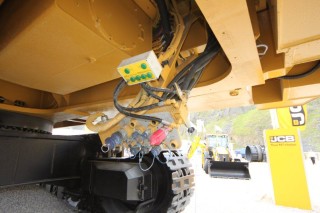 Hopefully the Digger Blog will soon be visiting this and the rest of Hargreaves surface mining's fleet of machines at the Tower Colliery open cast mine site in Hirwaun, Rhondda Cynon Taff, South Wales.
Stay tuned to the Digger Blog for further report's on these machines over the coming months.