MJL Contractors, part of the MJL Group, continue to make waves down in the South West, securing more and more work in the current difficult economic climate. As a result of the company's continued expansion, more machines have recently been acquired. Back in October 2011, a new Doosan DX140LC was delivered by local dealership Kellands Plant Sales Ltd. The order had been placed 5 months prior to delivery, but supply had been difficult due to the slowdown in production.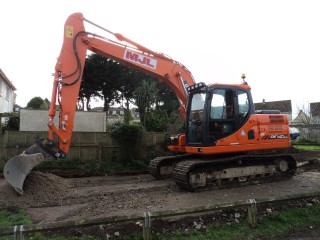 The machine was put to work on a Leadbitter site at the Tremough Campus job in Penryn, Cornwall, and the new operator Paul Richards was said to be delighted with his new mount, especially with the new cabs that are fitted to the latest Doosan models.
MJL managing director Matthew Lugg commented, "Paul recently joined the company as a 360 operator who had minimal experience with Doosan machines and was a little nervous about how they would perform"
Matthew continued "Before joining MJL Paul was a Hitachi fan who had spent most of his days in a wide variety of Hitachi machines. As there was a long waiting time for the new DX140 to arrive Paul was driving a loan machine from Kellands which was an older 130 solar machine. I think Paul thought at this point that things hadn't moved on much with the Doosans but boy was he in for a shock"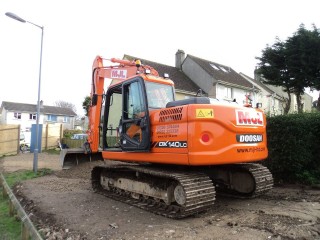 Matthew said "Within one day of driving the new DX140 Paul couldn't believe how superior the machine was. Paul called me after the first day and actually said that it was every bit as good as a Hitachi if not better, I never thought I'd hear him say that!"
As you can see in the photo there is a high level of specification in the cab, with a full air suspension seat now fitted as standard and all switches and dials ergonomically placed to the right side of the cab, including all climate control settings, remote radio control, tracking speed switch, and work light switch.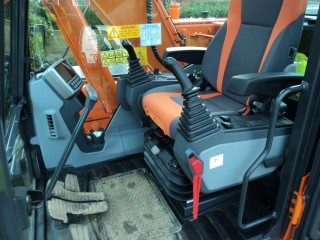 In November last year another new Doosan arrived on the company's latest site in Looe in Cornwall, where Barratts are building 189 new houses. The new arrival is another Doosan DX225LC which has been entrusted to highly experienced operator Alan Maunder. This is Alan's second new machine in the short time he has been with the company, a fitting testament to the man's exceptional talents for keeping a clean and tidy machine.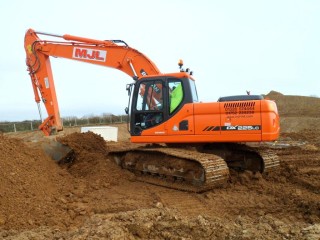 Alan has had a long association with the Doosan product, having operated many of them with previous employers in the South West, and he has nothing but praise for his latest machine. Alan commented, "They have all you need in a machine, speed, power, and finesse, and the level of comfort in the cab makes it a nice place to spend your day".
Matthew commented on his decision to purchase the popular 22 ton machines, "We believe the DX225LC's are one of the best 22 tonne machines on the market. With the 6 cylinder engine this machine has far more power and speed than its competitors which only have a 4 cylinder engine. The 6 cylinder engine is obviously not quite as fuel efficient as the 4 cylinder but we feel that the additional fuel consumption, greater power and speed is much more beneficial to our business. Each to their own as they say"
The site in Looe is proving to be challenging, especially as the weather has been against the team on site from day one. The ground is soft and crumbly and turns to sludge very quickly, which makes digging footings rather interesting to say the least. Fortunately MJL Contractors are attracting a good team of highly experienced operators who are more than up to the challenges the site can throw at them and so good progress is being made on the job despite the conditions. Mike Atwell is another seasoned operator from this neck of the woods, seen here operating another example from MJL's Doosan fleet, a DX140LC model fitted with the very useful dozer blade.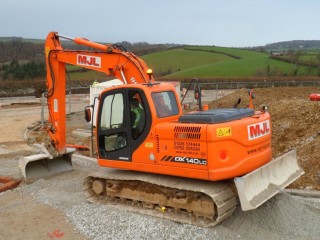 Matthew concluded, "After buying my first Doosan 3 years ago we haven't looked back. Although we still run some Hitachi's, Case and Takeuchi machines a lot of my drivers have requested the Doosan when given the choice. The reliability of the Doosans has also been impressive for us, as to date apart from regular service and maintenance we have never been let down by the Doosan product"