Designed by Norman Brocklebank, and launched in 1982, the Priestman VC15 (Variable Counterweight) was a unique idea combining the best elements of a rope controlled dragline with the power and precision of a hydraulic excavator. In fact it's advertising slogan at the time was, Better than a Dragline, Better than a Hydraulic Backhoe. The machine employed a direct rope pull system attached to the dipper arm, with a hydraulic ram to operate the bucket crowd/discharge, and hydraulic boom lift rams, but also had the advantage of a hydraulically actuated moving counterweight which moved in tandem with the outstretched arm, ensuring that the machine was always kept in balance.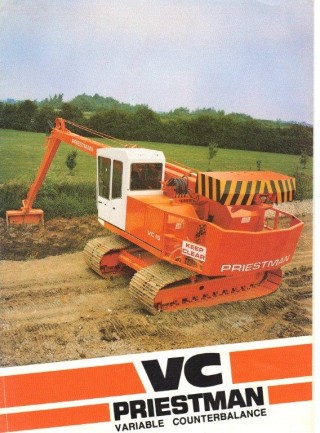 The machine proved to be incredibly popular with sand and gravel extraction industries, river maintenance authorities and companies working in very soft ground conditions where long reach and low ground pressure was essential. As the model number suggests, the VC15 could reach out a full 15m (50ft) using its powerful two- way hydraulic winch to move the arm back and forth. The addition of a cranked boom arrangement allowed the VC15 to attain a dig depth of 9m (30ft).
This model was joined by the larger and longer reaching VC20 in 1984, which could carry bucket capacities of up to 1.5 cubic metres (2 cu yds). Like the model seen in this photo from the period post 1985, when Priestmans had been taken over by the Sanderson Group, working for the Witham Fourth District Drainage Board in Lincolnshire, England.
Many of these machines were also fitted with Priestmans specialist "Bogmaster" low ground pressure undercarriage, which were said to reduce overall ground bearing pressure on the VC15 for example to only 0.2kg/cm2 (2.8 ib/in2) enabling it to work in swamps and marginal land quite easily.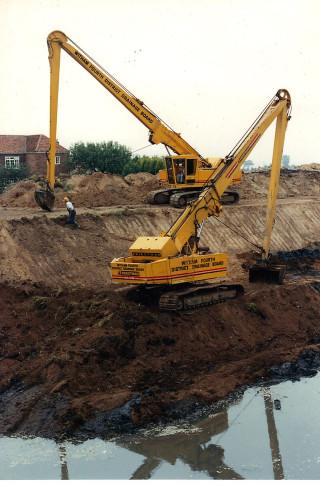 Around 1987 the Sanderson Group had started development work on a VC30 model, with I believe one prototype model being produced for evaluation purposes. Sadly the Sanderson Group got into financial difficulties in the early 1990's and at that time the Priestman side of the operation was sold onto RB Cranes.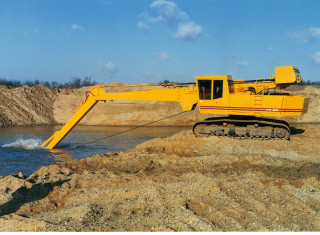 There are still a number of these old machines still putting in a good days work around the globe, but with the rapid advance in long reach hydraulic excavator technology one has to conclude that their days must now be numbered.
Thanks must go to my friend, Priestman expert and ex Priestman employee, Bill Bromwich, for some of the information and the VC15 brochure cover.