Yes its winner's time again, and although this competition was not as well supported as our previous die cast model digger competitions, I would like to thank everyone who took the time to enter and for your continued support of the Digger Blog. The draw took place last Friday at Engcon's headquarters in Stromsund, Sweden, and was performed by two members of the Engcon sales team, Lars Ringbert & Jonas Hasselstam, seen here drawing the winners names from the hat.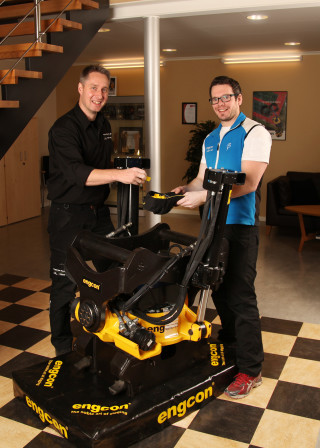 The first five winners, who correctly answered that the new generation Engcon tiltrotator for machines in the 18-26 ton class is the EC226, who win an Engcon T-Shirt & cap are ...
Scot Vance from Fort William, Scotland.
Stuart Jamieson from Ballymena, County Antrim, Northern Ireland.
Jim Mudge, from Plymouth, Devon.

Lars Eriksson, from Eskilstuna, Sweden
Ryan Stallard, from Callington, Cornwall.
The five runners up who win an Engcon cap are ..
Chris Mills, Mike McGuire, Ross Fleming, Paul Keaton, and George Waterman.
Congratulations to all the winners, and your prizes will be in the post over the coming weeks. Lookout for more exciting free stuff competitions here on the Digger Blog soon.