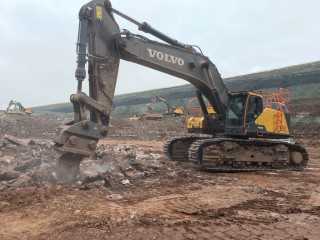 Hall Construction started works in November 2016 at the UK's only open cast gypsum mine in Newark, Nottingham.
The £25m, five-year contract continues a long working partnership with processing contractor Banner Contracts, operating the mine on behalf of Saint Gobain Formula. Hall Construction is extracting high purity gypsum, lying in thin seams ranging from 40 to 60 metres below the ground.
The quarry produces 500,000 tonnes of gypsum a year, for use in everyday products, manufactured at Saint Gobain's British Gypsum sites, ranging from plasterboard to dental moulds.
Hall Construction invested heavily in new plant for the contract, including six Volvo A40G articulated dump trucks and a 75-tonne Volvo EC750E excavator.
A heavy-duty Hill Titan ripper tooth, combined with the manufacturer's fully-automatic Tefra coupler, is chomping through 4,000 m2 a day, twice the amount that would have been possible with a 4 m3 rock bucket.
The Tefra coupler is also enabling faster attachment swaps between the Titan ripper tooth and loading bucket which is used to dig seams of gypsum between 100mm and 300mm thick, leaving anything between 300mm and 600mm to be blasted.

Hall Construction Services' project manager Robert Hall explains they had decided they needed a ripper and quick hitch for a Volvo EC480 crawler excavator they were using on site but the machine was not big enough so they ordered a Tefra coupler and Titan ripper tooth for their Volvo EC750 instead.
"It was a bit of a gamble because there aren't many applications for an EC750 ripper and it might not have worked but it has certainly paid off. It is a fantastically designed ripper tooth. It cuts through rock like a knife through butter," he says.
Hall Construction Services first specified Hill Engineering attachments almost two years ago when Volvo recommended the manufacturer's Tefra coupler for two EC480s and the EC750.
"We had heard of Hill before and Volvo suggested they were a good quality product," Robert Hall says. "We thought we would see what Hill's product range was like and they have been outstanding. They are very well built and just get on and do the job."
Hall Construction Services is currently working seven seams, with the Hill Titan ripper tooth in use on three of them, and is also using EC750s with 5.7m3 buckets to move three million cubic metres of overburden a year to reach the seams.