"We need to rely on suppliers who understand our business needs and can provide a fast responsive service and parts support when we need it," says GBM's Managing Director Simon Grantham as he takes delivery of two twenty six tonne Volvo ECR235C reduced swing excavators and an EC160CL, with two new EC380D's and an EC290C on order for imminent delivery. "That's why we've opted once again for Volvo equipment."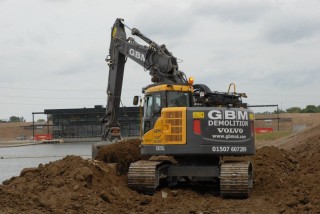 Starting out as a muck shifting contractor in 1988, Simon Grantham's business altered course when the Company was awarded the contract to demolish the old Butlin's holiday camp in Skegness. Since then GBM Demolition has grown significantly covering demolition projects the length and breadth of the UK and more recently undertaking a four year contract working for the Environment Agency on flood defences throughout Lincolnshire. The Company took delivery of their first Volvo back in 2000 and with these latest additions the GBM fleet is now predominantly made up of Volvo excavators and loading shovels.
Specifically, the two ECR235C's were purchased for working on flood defence work although as Simon Grantham has discovered, they have been very adept in tight working situations on demolition work. "The combination of the dozer blade and two piece boom on the ECR235 saved us several days work on a recent demolition project where a conventional excavator would never have been able to gain access to a large part of the job," says Simon. "On its other duties, the steep batters we need to grade on river defence can be done with ease thanks to the boom's geometry and stability of the machine itself."

Powered by a Volvo six cylinder Tier III engine developing 150 hp, the ECR235C equipped with dozer blade and two piece boom weighs in at just over twenty six tonnes. The machine has an impressive forward reach of 10 metres and is capable of working on steep batters down to 5.5 metres. The generous track length of 4.4 metres and a width of 3 metres in combination with the optional dozer blade make the ECR235C an exceptionally stable machine, capable of significantly larger lifting capacities over a conventional excavator.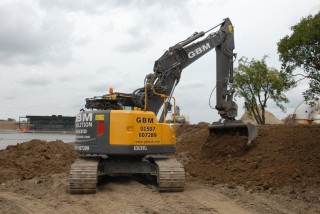 The two new ECR235C's and EC160C join a collection of other Volvo excavators including two EC700BLC's, one of which was converted two years ago by Kocurek into a 38m telescopic high reach demolition rig, and two EC360C machines that are shortly to be replaced by two of the recently launched EC380D models. Each machine is assigned to a specific operator who, apart from routine servicing, is responsible for the upkeep and aesthetics of his charge. "Our goal is to maintain equipment to a high degree for around four years," says Simon. "By doing so, coupled with the fact we specify the machines with relevant additional options and accessories means we can realise a high residual value when it becomes time to trade."