Some of these shots have been doing the rounds on the machinery forum circuit for some time, but I had never seen them all before, so I figure it's worth showing the best ones again here on the Digger Blog. I am led to believe that this "bridge strike" incident took place somewhere in Canada and that the driver of the truck and lowboy seriously misjudged the clearance with devastating effect!
The machine, which is a 24 ton class John Deere hydraulic excavator, is of course a rebadged Hitachi Zaxis machine, as we would recognise it here in the United Kingdom. One can only imagine that it would have been an insurance write-off after this spectacular accident.
It would also be more than likely that the driver of the truck was given the equivalent of our P45 on his return to the transport depot, unless of course he had a really sympathetic boss! But hey, on the plus side, the tractor unit came out of it relatively unscathed, with the remainder of the railway bridge landing just behind the cab.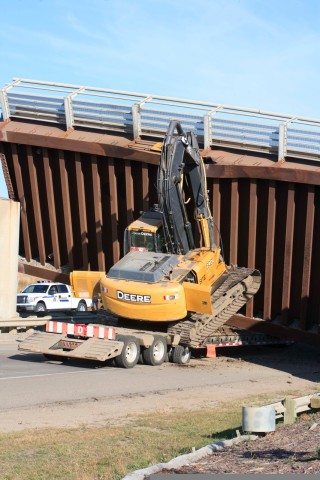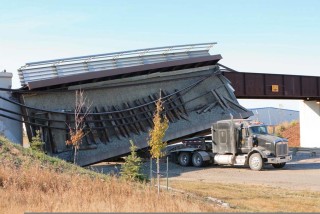 Accidents will happen, unfortunately, but in this instance it appears that only metal and concrete were the losers. Those items can be replaced and at least nobody was killed in this incident.
Posted Jan 2nd 2013.