Here in England everything comes to a grinding halt when we get barely an inch of snow. Just last week we were all warned about the much hyped "Beast from the East" cold weather front, that was supposedly heading our way, prompting panic buying of food and fuel. Here in my neck of the woods we did have a few chilly days, but this now seems to have been replaced by the usual wet stuff, which was heavy enough for us to actually get rained off site yesterday! Of course in Sweden, cold, icy and snowy winter weather is just accepted and life goes on unabated, with the vast majority of Swedes being equipped to tackle snowy conditions.
Robert has a very friendly neighbour with a young 8 year old son who enjoys sledding. She suggested to Robert that if he wanted to clear the snow from around his house, she would like it to form a really good sledding hill for her son to play on. This seemed like a great idea to Robert, who quickly got to work loading the snow with his Engcon tiltrotator equipped Volvo EW160.

The snow was delivered to his neighbour's house in his tractor and tipping trailer, according to Robert getting the snow out of the back of the trailer can be rather problematic, as it tends to stick in the butt unless it's really cold. Temperatures in and around Stockholm have been ranging from -19 to -25 degrees centigrade recently, with much colder weather to come over the next couple of months. Robert said "The only way to get the dreaded white stuff out of the trailer is to back up to the pile at speed and slam on the brakes"!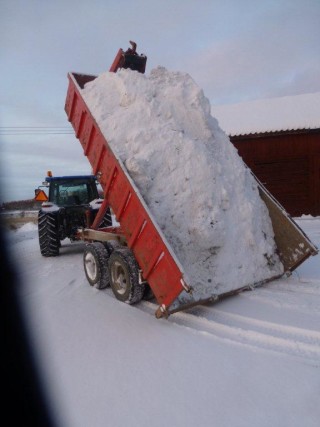 The Digger Blog thanks Robert for this latest batch of photos.