The new twenty four tonne machine is George Russell's second Volvo, the company having purchased an EC210BLC back in 2005. "That machine proved to be a reliable and productive model and although we replaced it with another make, decided to come back to Volvo based on our previous experiences together with the competitive package on offer and projected residual value," said Managing Director George Russell.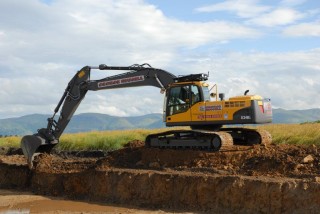 And moving up a size in machine weight is due to the nature of the contracts George Russell is currently involved in. "We needed a machine with extra capacity to handle some larger muck shifting contracts we've secured and deemed the EC240C to be a happy medium for those activities as well as the normal general purpose projects such as housing starts and ground contracting," he continued. "So far we have been impressed with the machine's balance, smooth control and operator comfort."

At the heart of the machine a 7 litre Tier III engine developing 170 nett hp operates in conjunction with an advanced mode control systemensuring the maximum possible hydraulic horsepower available is delivered at a constant engine speed under varying load conditions. Each track is powered by an automatic two speed shift travel motor providing a maximum drawbar pull of 209kN on gradients up to 35º. Maximum reach with the intermediate dipper arm is a generous 10.2 metres and lifting capacity across carriage at full reach is and impressive 3.74 tonnes.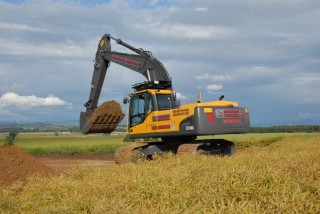 George Russell Construction Ltd was established in 1972 and specializes in general contracting and private house building projects throughout the central belt of Scotland. The company, based in Denny Falkirk has recently expanded into bulk muck shifting which has coincided with their decision to purchase the larger Volvo EC240C.