This latest assortment of machines has initially been delivered to Banks Mining's Shotton Surface Mine near Cramlington, the largest approved surface coal mine currently operating in the UK, and is part of an up-grade to Banks' existing fleet. They join two existing A40E models delivered to the site back in 2009 equipped with coal handling bodies. The new A40F's have been supplied in standard configuration and are being deployed to haul overburden from the more difficult areas on site where access and manoeuvrability are harder for the larger rigid haulers. The trucks feature 24m³ bodies with a 39000kg load capacity and the Volvo designed and proven drivetrain is powered by a Stage IIIB Volvo D16 low emission engine with a gross power rating of 350kW.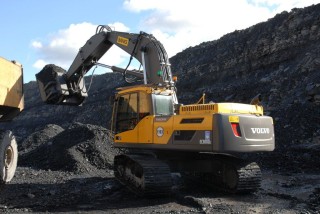 While Banks Mining has had a long association with Volvo articulated haulers, choosing models from Volvo's excavator range was a new departure for the company. "Naturally we scrutinised the market place to evaluate what was available but based on the overall package on offer from Volvo and the high availability and reliability of the haulers decided to put their excavators to the test," said the Banks Group's procurement manager, Andrew Bennett. Two new twenty-two tonne EC220Ds have been supplied in standard backacter configuration along with two new thirty tonne EC300D excavators fitted with bespoke front shovel coaling equipment.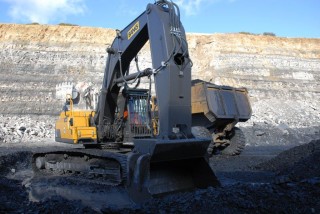 With the EC220Ds working to clean off the last layers of overburden to expose the coal, which can lie in seams from just four inches to over four feet thick, the EC300Ds are used to load coal into high bodied coal haulers. The machines have been converted to face shovel by Messrs Kocurek of Ipswich and feature a bespoke 5m-long boom, 3.4m face shovel arm and 1.8m³ clamshell bucket. In this configuration the EC300D features a generous forward reach of 9.25m and a load over height of 5.75m. Heavy duty guards have been fitted to the cab windows and the clamshell bucket is operated via the X1 two way proportional valve.

Both the EC220Ds and EC300Ds are powered by Volvo Stage IIIB low emission engines developing 129kW and 170kW, respectively which deliver exceptional performance and fuel efficiency, attributes maximised when combined with new hydraulics and well matched components. The engine uses precise, high pressure fuel injectors, turbo charging and intercooling plus advanced electronics to optimise engine performance.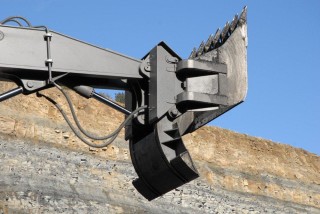 With its headquarters based at Meadowfield, Co Durham, The Banks Group has more than 30 years of experience in the mining industry and has built up an excellent reputation in the industry for innovative and successful mining operations throughout the UK.
Banks Mining is a major supplier of high quality coal to the UK's electricity generation industry as well as to the domestic coal market, meeting customer's energy and environmental requirements. The company operates its own sites using a modern plant fleet which has recently been adapted to meet stringent production and environmental standards.