They feature a brand new Volvo EW180C "rubber duck", which had been delivered to the A46 dual carriageway improvements site, between Newark and Widmerpool, in Lincolnshire, where Scott is currently operating a machine.
Nothing unusual about that I hear you say, but take a closer look at the machine in question and you will notice that it is sporting military number plates. The machine and another one like it, are being leased to Hawk, by ALC who have a contract to supply the military with vehicles.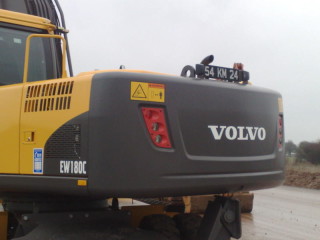 The C Vehicle Capability PFI is a 15 year £600m joint venture between Amey plc and Babcock International Group plc, to supply the Ministry of Defence with a wide range of construction and field mechanical handling equipment, this arrangement commenced in June 2005.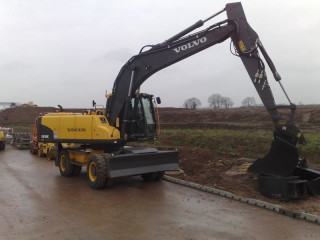 I am surprised that the machine is not painted in the traditional drab green colours of the army, but I am guessing that if needed in service, it could be re-sprayed relatively quickly.
Thanks to Scott for sharing his photos with us and don't forget if you spot anything of interest, we want to see it here on the Digger Blog.