This Volvo ABG6870 road paver recently appeared on a site I was working on in the South West and I must say it's a pretty impressive piece of kit.
The machine is powered by a Deutz diesel engine with an output of 122kw (166hp) and has a maximum paving width of 9.0m (29.5ft).These technically advanced pavers feature the EPM (Electronic Paver Management system)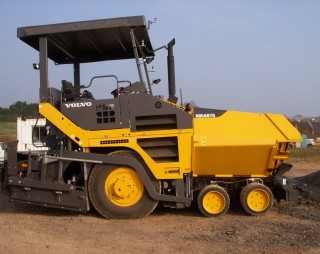 The EPM control panel is described as the only one of its kind on the market and gives the operator an overview of all the important functions at a glance. The large colour display is divided into groups that clearly summarize all the paving and engine data. As an additional aid, the operator can store and retrieve paving functions with the press of a button.
By using the integrated drive lever the operator can maintain the pre-selected paving speed.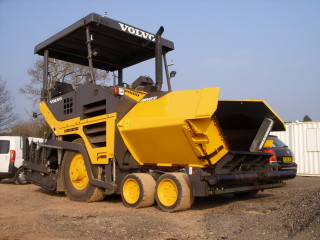 The addition of operating keys, which have a "touch and feel" feature, means the operator does not have to take his eyes off the hopper and auger channel whilst paving.

As an excavator operator I was totally bamboozled by the vast array of controls, but I am sure after a bit of instruction, one would settle into the role quite nicely.
Talking of training, it was recently announced that Volvo Construction Equipment Division, Volvo Group UK Ltd, have been awarded full accreditation as a skills training provider by The National Skills Academy, for its paver applications training course.
The training courses have been designed to improve the knowledge and understanding of paving techniques by means of classroom based theory and practical hands on experience, operating Volvo road equipment at a purpose built facility in Immingham.
Here is a video which further shows how Volvo's innovative training initiative is conducted.