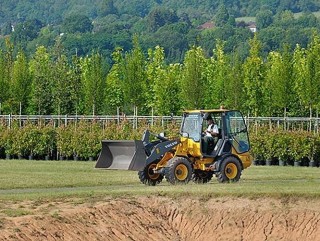 Leick Baumschulen is based just 30 minutes from the Volvo CE factory in Konz, Germany, where the L25 Electric will be produced from mid-2020.
The tree farm, nursery and landscaping company has been a Volvo customer for 34 years and with its focus on the natural world and openness to new technologies was an obvious choice to trial the new green machine.
The Volvo L25 Electric compact wheeled loader is expected to be available for general sale from mid-2020 when Volvo CE will stop the development of new diesel engine-based L20 to L28 compact wheeled loader models.
The operators at Leick Baumschulen use compact wheeled loaders every day for a wide range of jobs – from pallet handling and loading material to grading and sweeping.
"This variety of tasks makes it the perfect real-world scenario for us to test our new electric compact wheel loader together with our customer," says Paolo Mannesi, global compact wheel loader product manager for Volvo CE.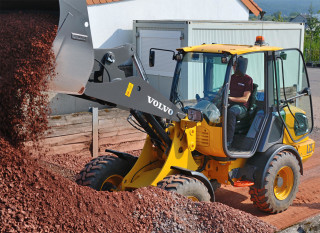 The owners of the company, Christoph and Michael Leick, strongly believe in electrification. They already use electric golf carts to show customers around their large yard and display area and are keen to explore the potential of electrification for their fleet of construction equipment too.
The Volvo L25 Electric is powered by lithium-ion batteries that offer an eight-hour regular shift with a single charge. The L25 has two separate electric motors – one for the drivetrain and one for the hydraulics.
First impressions are that the machine functions much like a conventional diesel-powered loader, only smoother and quieter.
"It is a product with the right performance and great design," says Christoph Leick. "The machine operates like a conventional wheel loader, but with improved comfort for the driver and surroundings – it feels similar when it comes to power but is quieter has less vibration, less maintenance and is emission-free locally."
The lack of noise is a particular plus in this landscape. "We also operate the machine to transport plants in our show area where customers are coming in and out. With this machine, it is more comfortable for our customers and our employees as the noise level is much lower. This means we can keep our conversation and discussions going with our customers when the machine is operating nearby," he says.
He sees maintenance benefits too. "The machine requires less maintenance as it has no engine – we don't need to check the engine oil and coolant every day or refill fuel. We simply charge it overnight, which is very easy. You just need to plug one end of the charger into the machine as well as the other into a normal household socket. That's it. There's actually nothing you can do wrong – it is easy and safe," he says.