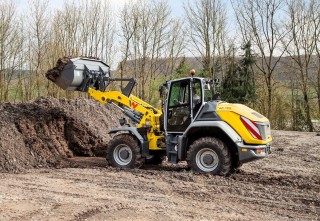 It is a significant addition to Wacker Neuson's articulated wheeled loader line-up, which currently starts at the 3.4-tonne WL32 and extends to the 5.9-tonne WL60.
The WL95 becomes the eighth model in the series, at the top end.
The hydrostatic WL95 will be available from January 2019. Much comes as standard but the engine, travel drive, operator's station and hydraulics can be individually configured depending on customer application and preference.
In the 40 km/h version, the WL95 is equipped with the EcospeedPRO transmission. This is an infinitely variable hydrostatic high-speed transmission that gives higher tractive forces and driving speeds. You can accelerate from 0 to 40 km/h without shifting gear and with no interruption to tractive force.

The WL95 comes with two engine versions: a Deutz 3.6-litre engine with 100 kW/136 hp and DOC/SCR emission control system, according to the current Stage IV emissions standard. A diesel particulate filter is optionally available, which is already certified for Stage V applicable starting in 2020. Or you can have a meatier 4.1-litre engine with 115 KW/156 hp, also from Deutz. The bigger engine has an exhaust after-treatment with DOC/DPF/SCR system to meet Stage V.
The load arm achieves a bucket pivot point of 3.80 metres for loading high-sided trucks. With the total weight of the loader at 10 tonnes, tipping load is 5.7 tonnes.
Despite being its biggest size class, Wacker Neuson has tried to keep the new machine small. With a bucket, the WL95 has a total length of 6.50 metres and a width of 2.39 metres. It has an articulated joint and a pendulum axle at the rear for manoeuvrability and traction. The turning circle is 4.90 metres, with an inner radius of 2.45 metres.
The WL95 can pull a trailer load of up to 18 tonnes. Both a two-line pneumatic brake and a hydraulic trailer brake are offered.