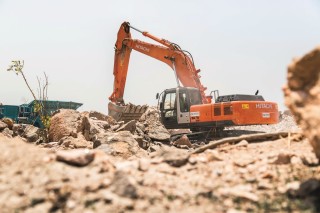 "I love working with the ZX350LCH-3G," Opoku says. "It's efficient and helps me to work quickly. It's also very comfortable and reliable, which means I feel relaxed while I work. When I'm working with this excavator, I'm very happy."
His machine is one of two Hitachi ZX350LCH-3Gs recently purchased by West African company Logistics Support Services (LSS). Both are working across the 45-acre quarry site to excavate granite materials for use in local road construction and concrete works. LSS acquired the quarry earlier this year. It reckons there is enough material there to sustain an operation for more than 50 years.
The ZX350LCH-3G excavators were supplied to LSS in May 2015 by DEM Ghana, the regional subsidiary of Hitachi's African dealer, DEM Group. After the area has been cleared of topsoil and clay, and the rock has been blasted, the excavators break down, sort and load the rocks, gravel and sand on to the site's dump trucks and lorries. The raw materials are then deposited into the primary crusher to be processed into various sizes of aggregates. In total, the quarry produces 500m³ of materials per day.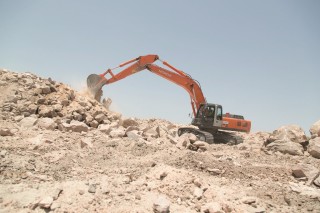 Site manager Alhassan Dawda says that finding reliable equipment that worked for them had been the greatest challenge to date at the quarry but he believes Hitachi was the best choice: "We looked at a number of other products available on the market," he says. "However, we were recommended to choose Hitachi and told that their products were the best. We've certainly found that to be true of these excavators. The mechanical components are very well made, and the fuel consumption is minimal when compared to other machines."
He says they'll be buying more Hitachi excavators in the future.