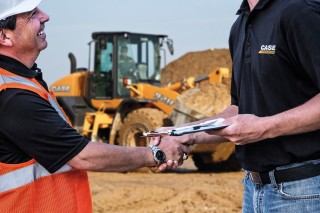 Companies the size of Case generally have systems in place to ensure that publicity stills like this go through strict corporate vetting procedures. They must ensure that they send out the right corporate message and that all the appropriate health & safety protocols are being adhered to.
Case has a slick marketing operation so this particularly image has probably been scientifically constructed to convey a very particular message. However, I just can't quite decide what it might be.
I have come up with the following shortlist; some or all of these statements may be true, but judging by the photo none can be absolutely ruled out.
1. You have to be very tall to work for Case.
2. Case customers are very short (but also happy).
3. Case is a big, powerful company, but rather faceless and anonymous.

4. Case looks down on its customers.
5. We all look up to Case.
The good news is that it gives me an excuse to watch this again...