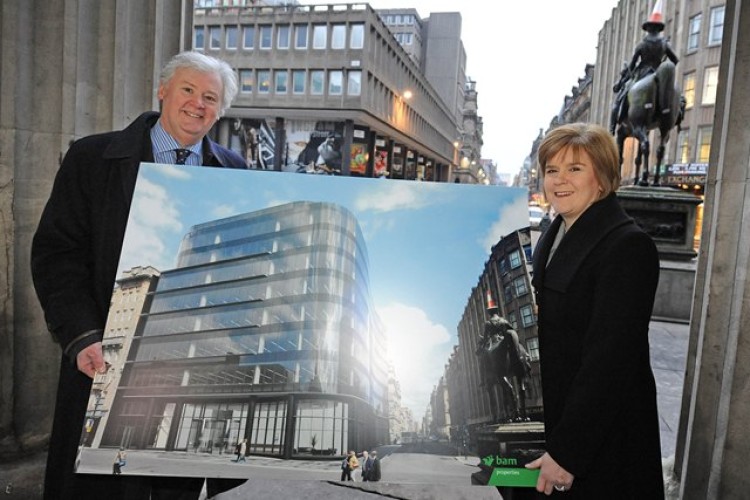 The building at 110 Queen Street used to be a bank but now stands empty. It is to be transformed into retail and office space, accommodating up to 1,500 workers.
BAM is investing £40m into the project, which will create 143,000 sq ft of Grade A offices and 20,000 sq ft of retail space.
It is supported by a £9.6m loan from the Scottish Partnership for Regeneration in Urban Centres (SPRUCE) Fund, which has been established with Scottish government and European Regional Development Fund money.
BAM Construct UK executive director John Burke said: "This is terrific news for Glasgow and the wider construction sector, and is testament to the confidence investors have that BAM can deliver the largest office development to be built outside of London in a number of years.

"BAM is also investing £40.4m in this project which will generate spin-off economic activity, both short and long term in the construction sector and supply chain as well as a number of new apprenticeships.  The team is keen to get started and will be moving on site on 7 January.
 "It is our firm belief that this significant development will give Glasgow a competitive advantage by providing new quality office space, which is scarce, to established companies looking for long term growth, and help to attract inward investors to the city".
The Scottish government's deputy first minister, Nicola Sturgeon, said:"The transformation of this building, due for completion in 2015, will provide much needed high spec office space for Glasgow, which will enable it to compete more effectively with other large cities – and help to attract companies from across the globe."
Got a story? Email news@theconstructionindex.co.uk