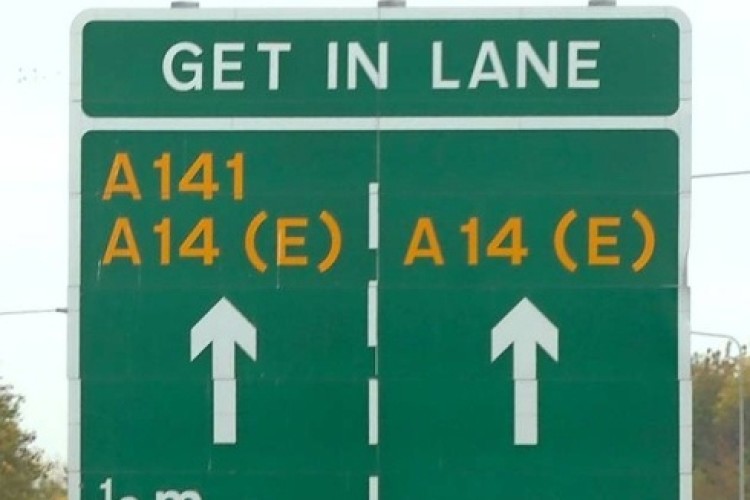 Construction could start in 2018, subject to funding.
The plans include a new bypass to replace the existing road around Huntingdon and upgrades along the A14 as far east as Milton. Two new roads would be built in parallel to, with one on each side of, the current A14 immediately north of Cambridge for local use. Meanwhile, the existing A14 carriageway will be upgraded by making junctions grade separated.
Funding for the £1.5bn or work would come in part through tolling a length of the enhanced A14, featuring around 20 miles of new or widened road. It has not been decided how long the tolled section would be or what the tariff should be.

The schemes will now enter the DfT roads programme and begin detailed design and statutory processes. They are dependent on local government and commercial decision making and will now be considered in more detail by the relevant local authorities and local enterprise partnerships, the DfT said.
Transport secretary Justine Greening said:  "The A14 is a crucial strategic route for the east of England, vital not only for international road traffic using the port of Felixstowe but everyone who relies on it daily. This is why my department has been working hard to generate innovative and imaginative solutions to tackling long term congestion and I am pleased to be able to unveil what we believe to be the best option for people living locally as well as those who see it as a lifeline to international markets."
The A14 road improvement package includes:
Widening of the Cambridge Northern Bypass between Milton and Girton and enhancement of the Girton Interchange;
Provision of high standard roads for local traffic use running in parallel to an enhanced A14 carriageway between Girton and the area near the current Trinity Foot A14 junction;
Construction of a bypass to the south of Huntingdon between the area near Trinity Foot and the A1, at both ends tying in with the existing A14.
Got a story? Email news@theconstructionindex.co.uk