The 5.3km, two-lane bypass has eight bridge structures with 20 culverts. Two of the eight bridges are constructed using steel girders with a composite deck cast using Paraslim.  A further three are constructed using precast beams and the remaining three are RC box and through girder structures.
With the variation of bridge construction methods and the tight programme to deliver the project in just 18 months, the selection of products to support the construction of the steel beam composite bridges was critical to stay ahead of programme.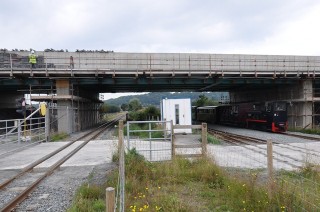 Commenting on the choice of Paraslim from RMD Kwikform and the challenges faced on the project, JV structural sub agent Steven Jones said: "With a project of this nature you are always considering four key elements when it comes to product selection. The first and most important is the safety of workers and the use of safe equipment solutions. This is our number one focus, which supports our company-wide Zero Harm initiative. The second is cost effectiveness and quality, with the third being whether a product is truly fit for purpose. The final consideration is reliability and performance, in other words looking back at whether a product or solution has a track record of performing well on other similar projects.

"Having gone through this process and being familiar with the use of Paraslim on composite bridge work we have carried out in the past, we selected RMD Kwikform to supply the equipment. The additional technical support offered by the team was also a crucial factor in the decision making process.
"From a practical perspective, what Paraslim gives you is a proven support system which can withstand the pressure of concrete being poured, whilst also providing a save access platform, complete with Ultraguard edge protection.  For this particular job, this allows operatives to walk safely above water and, in the case of the second bridge, to work above a live tourist railway line, to clad the structure in local stone."
While the larger viaduct was cast, the smaller Welsh Highland Railway composite under-bridge was constructed using a Paraslim to span both Welsh Highland Heritage Railway and Welsh Highland Railway tracks.
The A487 scheme is scheduled to open in December 2011.
Got a story? Email news@theconstructionindex.co.uk