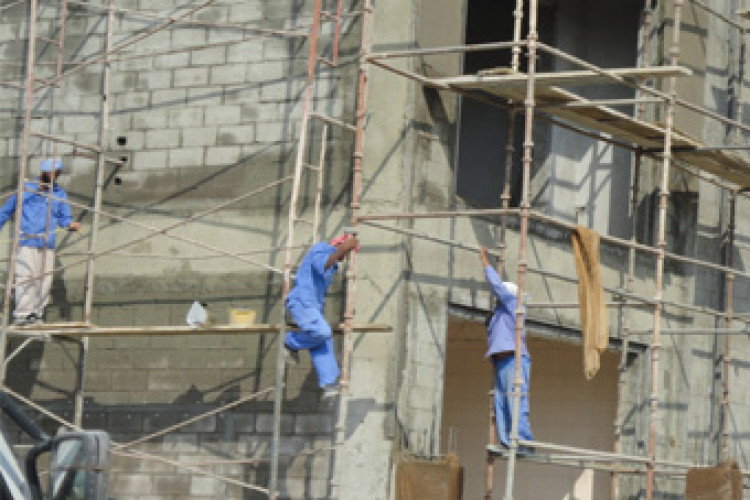 Those found to be violating the standard face losing access to municial permit systems.
The aims are to step up the protection of workers, enhance HSE procedures and verify the compliance of contractors and consulting offices with the required HSE standards.
The new system mandates all consultants and contractors to meet the requisites of the HSE plan, and applies rigorous periodic monitoring policy. Contractors and consultants will not be able to clear a phase, in terms of permits or construction, unless they meet all the required HSE standards, redress their mistakes, and eliminate all forms of risks that put the lives of workers at risk. "Thus the Municipality of Abu Dhabi City will be able to play a leading role and move forward in the applications and mechanism of monitoring building and construction sites in a way that provides a safe, secure and healthy working environment," said engineer Salah Awad Al Sarraj, acting executive director of the town planning sector.  
Engineer Abdul Aziz Zurub, director of health, safety and environment, said that the Municipality of Abu Dhabi City, in cooperation with the strategic partners has launched an extensive campaign to verify contractors and consultants' commitment to the requirements of the HSE plan and ensure the implementation of all preventive measures at building and construction sites.


The inspection and monitoring campaigns are  accompanied by a media, awareness and guidance campaign. The Municipality is keen to include many illustrations to show the most important risks and wrong practices in building and construction sites and is in the process of printing the same a booklet in seven languages including Arabic, Urdu and Hindi.
"The Municipality continues to urge consulting offices operating in the building and construction sector to adhere to the HSE procedures approved by the concerned governmental agencies through carrying out direct supervision and follow-up of all works and activities in construction projects, infrastructure, demolition, and maintenance works, and obligating all firms operating in construction projects to apply these measure strictly," said Zurub.
The Municipality also urged contracting companies to promote the culture of commitment to the HSE standards, as the HSE Division is intensifying workshops in this regard.
Zurub issued a particular warning about the importance of safety on high-rise buildings. He stressed the importance of educating workers specialized in working in scaffolds and cautioning them against throwing solid objects from high altitudes, and ensuring that all machinery and equipment used in assembling scaffolding are fit for use and conform to the highest security and safety levels.
Got a story? Email news@theconstructionindex.co.uk