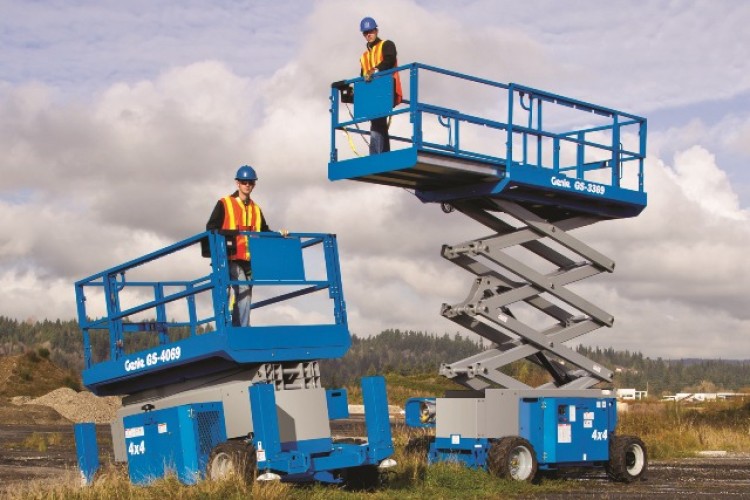 The event is being held on 14-16 September at the MECC exhibition venue in Maastricht.
Exhibitors and new products set to be there include:
AIRO will introduce two new articulated platforms: A 12 JE and A 15 JE.The main feature of the two models is an AC electrical power system for both drive and lifting movements. The A12 JE has a working height of 12m, with outreach of 7.5m and a width of only 1.2 m. The A15 JE has a working height of 15m, with outreach of 8.95m and a width of 1.5m.
Big Astorwill launch the Genius pedestrian tunnel. This modular system is designed to offer overhead protection for pedestrians alongside scaffolding. It can be erected in less than two minutes by one person and protects against the accidental fall of objects. A patented telescopic support system allows the tunnel to be installed on a variety of sidewalks and uneven surfaces.
Bronto Skylift will show a new truck mount in the 50m class.
CTE  will display its truck-mounted platform B-Lift 20.13 Multipurpose and the track mounted Traccess 230. It will present the telescopic aerial platforms B-lift 230 PRO and B-Lift 510 HR, plus the articulated aerial platform Zed 20 CH, featuring its new, patented H-frame outriggers.
Dingli, aChinese AWP manufacturer, will launch a new electric scissor lift, the JCPT1412DC, and the AMWP9-2000S vertical lift. The JCPT1412DC is a self-propelled electric scissor lift with 12 m platform height and 320 kg platform capacity. The AMWP9-2000S is a self-propelled vertical lift with front steer wheels.
Genie is launching in Europe the new RT69 series of 1.75m wide rough terrain scissor lifts. The new models are the GS-2669 RT, GS-3369 RT and GS-4069 RT. The GS-4069 is claimed to be the world's first 12.2m full drive-height rough terrain scissor lift in its class, offering a 14.2m working height.
GSRwill launch three new models, one of which is the E320PXJ - a 32m model mounted on an 18t chassis that will allow 20m outreach at full cage load of 280kg.


Hinowalaunches the new tracked aerial platform Goldlift 14.70 IIIS. This unit has increased rotation from 300° to 360°. It is available at a lithium-ion battery powered version and equipped with a location and satelite diagnostics system through R.A.H.M. (remote assistance on Hinowa machines).
Instant UpRightwill show latest developments in its AdvanceGuard Systems across its Span range of towers. It will also introduce a new low level access product. The new Instant 'Build Kit' software, will also be demonstrated, which is designed to assist rental companies configure towers of varying heights and lengths.
JLG Industrieswill exhibit the new 1500SJ, a straight boom lift that elevates workers up to 45.7m, requiring only a weight permit for transport. The telescoping jib, which can extend 7.6m, provides "work envelope flexibility and exceptional horizontal and vertical reach". The 1500SJ has dual 450kg/230kg capacity and three steering modes.
Niftyliftwill introduce its two latest hybrid models: the HR17 Hybrid 4x4 and HR21 Hybrid AWD. They incorporate ToughCage and SiOPS technology for greater operator protection and allow the selection of electric-only or hybrid power during operation. Fuel savings of up  50% are claimed, using a purification system (catalytic converter & particulate filter) that reduces exhaust emissions. All surplus power produced by the engine (up to 60 amps) is stored in a battery pack and when extra power is required the electric motor automatically assists to boost performance. 'Diesel Re-Gen' re-charges the batteries in four hours, offering the potential for 24-hour usage, inside or out.
Oil & Steel will display the new aerial platform Snake 2311 Compact REL. It has four direct vertical descent stabilising jacks that can be moved independently and individually while remaining within the outline of the truck.
Sky Aces, aew manufacturer of aerial work platforms from Italy, will present its truck-mounted TUN LIFT 737-500 platform, specifically designed for tunnel maintenance.
Socage will have three new machines including the first zero-emissions compact platform. The A314 NAT (Natural Aerial Transport) is installed on Ecomile FAAM truck, which is equipped with an electric motor with alternating current at 96V and a LI-PO lithium-ion battery of 150 Ah. The new model has a range, in combined cycle, of about 100km and it can reach a maximum speed of 80km/h. The second model is the compact A314 UP (Urban Platform), which is 4.43m long and 1.58m wide.
The new T320 is equipped with a 'within the mirrors' stabilizing system with extendable front outriggers.
Got a story? Email news@theconstructionindex.co.uk