A 2km stretch east of junction 31 of the M1 is being widened to dual carriageway for Rotherham Metropolitan Borough Council in a bid to improve road safety. The overall project cost is in the region of £14m. Killingley began work on its £1m earthmoving subcontract in mid-September and is set to be on site for 35 weeks.
Killingley project manager Ben Charlton explains that the scheme is mainly excavation, with some fill to smooth out the vertical alignment of the new road. The excavated material is being taken off site to a nearby former chemical works that is being regenerated and is able to accept it. "Since the scheme has started the excavated materials were found to be of poorer quality than anticipated and all the material is now being taken off-site," 
Charlton says. "This material is being replaced by imported fill." Excavation works have been undertaken in a traditional fashion with three excavators, three dozers and a pair of dump trucks. What is special, however, is that all the excavators and dozers are equipped with 3D GPS machine control. Charlton explains: "The scheme has been transformed virtually into a 3D model, which is uploaded to each machine. Each driver then has a full 3D view of the finished job to work to." 
Excavators on the project are two JCB JS220 models and a Komatsu PC240 on and off. A pair of Komatsu D61 dozers is also in regular use, supported by a Cat D6 from time to time. The trucks are Volvo A30s.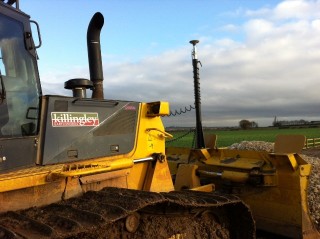 The excavators are fitted with Scanlaser PowerDigger 3D and the dozers with PowerGrade 3D, all controlled by a Leica iCON base station set up as a reference point. The base station sends out a correction radio signal to all the GPS-equipped machines on site. Charlton says that the technology eliminates the need for traditional setting out with stakes and batter rails. It also allows work to be undertaken in one hit, rather than a bulk excavation, followed by setting out, followed by trimming, as three separate stages. 
"GPS technology consistently allows us to get to within 20mm or 30mm, within tolerance for the excavation works," he says. However, while this is good, it is not quite good enough for road construction. Because of this, the dozers are also further equipped with an additional fine-tuning facility that allows the GPS control to be replaced with a Leica 1200 series robotic total station, tracking a prism mounted on a specific machine. "This enables us to place stone and trim surfaces to within millimetres of that required," Charlton says. "It is so accurate, in fact, that we can work within the upper range of the tolerances allowed for construction, enabling a financial saving on the more expensive elements such as concrete or tarmac."  
Killingley first tried out the machine control technology in summer 2011. It now plans to install it on all new machines that it buys, as old ones are replaced, including another dozer and excavator within the next 12 months, Charlton says.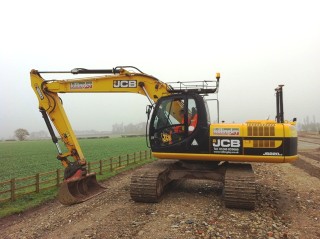 Got a story? Email news@theconstructionindex.co.uk