Aecom and Trimble are collaborating on what they say is the world's first use of Microsoft HoloLens technology for engineering and construction, with pilot projects on three continents.
Through a special headset, HoloLens technology adds holograms of 3D objects into a user's view, allowing interaction with these virtual objects as if they were present. Trimble's mixed-reality solutions allow Aecom to feed 3D engineering models into the HoloLens world, including models of large or complex projects.
Aecom is using HoloLens devices and Trimble technologies for projects including the Serpentine Galleries' annual architecture programme in London. The Serpentine Galleries' programme this year includes four Summer Houses with complex, unconventional structures. The new technology aided in visualisation and design review. With Trimble solutions, the designers and engineers can view a structure as if it were a 3D model placed on a table, or zoom in for a 1:1 view that simulates what it would be like to move through its structural framework.
As part of Trimble's mixed-reality pilot programme, Aecom is using HoloLens devices in London, Hong Kong and Denver. Designers around the world can share the same holographic models simultaneously, with their movements and interactions linked together via the internet connected by Trimble solutions.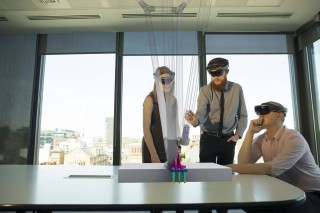 "Exploring complex structures in a mixed-reality environment has huge potential to accelerate the engineering design process," said Aecom president Stephen Kadenacy. "With this technology we can gain greater clarity earlier in the design review process than with 2D drawings or 3D models on screen, and team members in different locations, each wearing a headset, can simultaneously explore the same holographic projections. We're very excited to be working with Trimble at the cutting edge of mixed reality."
Trimble vice president Bryn Fosburgh said: "As an early adopter of Microsoft HoloLens, Aecom is already demonstrating the value of mixed reality in the architecture, engineering and construction industry. Aided by Trimble solutions and the HoloLens in a business setting, the company is learning first-hand how the technology can improve efficiency and enable effective collaboration throughout the design process."
Got a story? Email news@theconstructionindex.co.uk