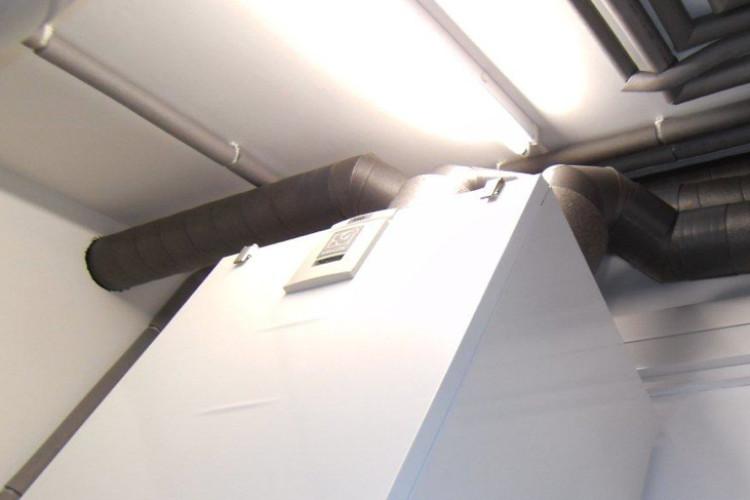 Providing a working model that allows visitors to see how the latest technologies can be incorporated into the home, Airflow's Duplexvent DV150 SC Passivhaus Institute approvedMVHR unit has been installed to illustrate just how easy it is to achieve a whole house mechanical ventilation and heat recovery system. By such means, it is also possible to demonstrate how heating costs and carbon emissions can be kept down through the use of such solutions.
Designed to bring a good all round level of ventilation to the house, the MVHR unit can recover more than 80% of the heat found in the warm stale air found in the house. The rooms connected to the system via the smooth bore Airflex Pro semi-rigid ducting system are then refreshed with filtered warm air recovered from the outgoing air.
Andrew Buchan, from the Cotswold Efficient Energy Centre, commented: "Having used alternative MVHR systems in the past, we switched to the Airflow unit for two reasons, the first of which being the ease with which the entire system could be installed. As a semi-rigid ducting system with no joints, the Airflex Pro system helped make this process even simpler due to the ability to easily connect the pipe to the main unit before snaking the system to its desired location. Owing to its compact nature, it was also incredibly easy to hide the pipe behind walls and in ceiling cavities, delivering an unobtrusive means by which to achieve such a level of ventilation.

Secondly, from a usability perspective, the DV150 SC unit delivered the exact ventilation needs we were looking for. Using comparatively very little energy, the system was able to provide a continual source of natural air circulation whilst utilising the heat generated in the house to warm the incoming air supply."
Working together, the MVHR unit and Airflex Pro ducting can significantly help to reduce the heating costs normally involved in a house of any size. Equally, such a partnership can also help to deliver an effective level of air distribution to and from all connected rooms thanks to the ducting's zero leak design.
Recently independently tested by BRE, Airflex Pro is now an input for SAP calculations via Appendix Q, helping architects to reduce carbon emissions through its use.
Got a story? Email news@theconstructionindex.co.uk