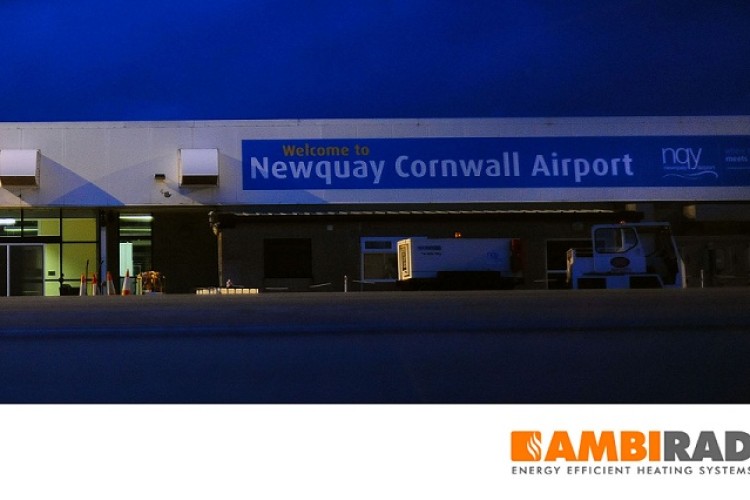 The solution was found in leading European supplier of heating systems AmbiRad's vision series, a radiant heating system which is ideal for a massive hangar where frequent opening of the hangar doors causes a high number of air changes and heat loss.
As part of the airport's transition from military to civilian ownership in December 2008, the site no longer had available the steam system previously supplied from a hot water panel on the air base. Contractor County Heating Maintenance worked with AmbiRad in designing a replacement heating system which took into consideration both heat loss and the need for a rapid heat recovery time making the facility fit for purpose and meeting the clients' needs.
AmbiRad provided a new LPG gas fired radiant tube system that included 12 units from the Vision series.  The VS40LH features advanced burner technology where combustion occurs entirely with the firing tube making it smaller and quieter than conventional radiant systems. The slim line burner improves temperature distribution so that heat is delivered more evenly.


The 12 single linear units were mounted on the roof at a height of 8 metres and will provide heat for this 2700 m2 building. These efficient units have reduced running costs and radiant heating also qualifies for Enhanced Capital Allowances, offering 100% capital allowances in the first year, including the costs of installation.
The hangar at Newquay Cornwall Airport is home to the new AgustaWestland Training Organisation. This global helicopter giant has recently chosen the airport as a base for its UK Operational Flight Training Centre, training students in search and rescue and also policing.
AmbiRad's new heating system will not only reduce the time for warming the helicopters but also provide a more comfortable and healthier training environment.
Got a story? Email news@theconstructionindex.co.uk